Nigerian Reacts As Buhari Assign Portfolios To New Ministers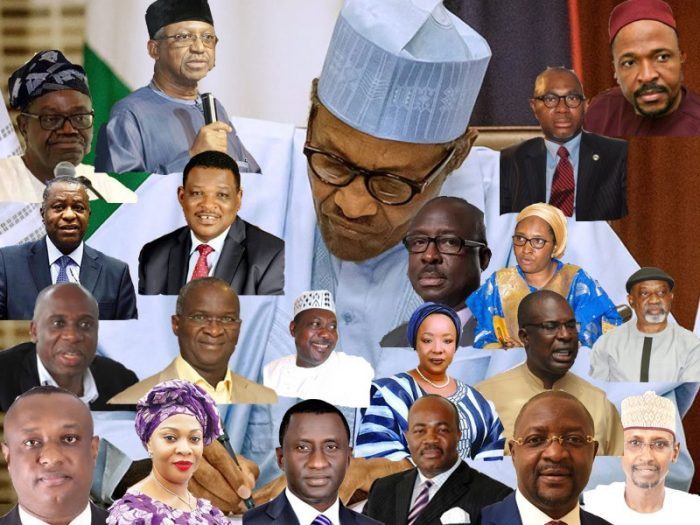 President Muhammadu Buhari has assigned portfolios to the newly sworn-in Ministers after the ceremony which held at the Presidential Villa Abuja on Wednesday.
Naija News understands that some previous ministers retained their portfolios in the next level cabinet. Another shocking revelation was the appointment of Timpre Sylvia as Minister for State for Petroleum.
Zainab Ahmed, the Former Minister of Budget and planning and later finance after the resignation of Mrs Kemi Adeosun was also given the responsibility of handling the two ministries.
Other Minsters with their assigned portfolios are as follows  Uchechukwu Samson Ogah – Minister of State, Mines and Steel Development,  Adamawa – Mohammed Musa Bello – Minister of FCT, Akwa Ibom – Godswill Akpabio – Minister of Niger Delta, Anambra – Dr Chris Ngige – Minister of Labour and Employment,Anambra – Sharon Ikeazu – Minister of State, Environment, Adamu Adamu – Minister of Education, Ambassador Mariam Kategu – Minister of State, Trade and Investment, Benue – George Akume –Minister of  Special Duties Mustapha Baba Shehuri – Minister of State Agriculture and Rural Development, Cross River – Goddi Jeddi Agba – Minister of State, Power. Festus Keyamo – Minister of State, Niger Delta, Ogbonnaya Onu – Minister of Science and Technology, Osagie Ehanire – Minister of Health,Clement Agba – Minister of Budget and National Planning,Otunba Adeniyi Adebayo.
Meanwhile, President Buhari still holds the portfolio as the Minister for Petroleum. The action of President Muhammadu Buhari has however generated several reactions on social media.
When Nigerians see Fashola is no longer the Minister of Power #BuhariCabinet #MinistersInauguration pic.twitter.com/dE33PdssMw

— Buzi Brown (@BuziBrown) August 21, 2019
Akpabio – minister, Niger Delta
Sylva – Petroleum
Aregbesola – Interior
Sabo – Agriculture
Sali Muhammad – Power

Let's see the effect of leaving only works & housing with Fashola #BuhariCabinet

— Toheeb Daramola (@capt_stad) August 21, 2019
As a young person, what the new #BuhariCabinet is telling me is, we still choose familiarization over competence. So Fashola, Adamu Adamu, Chris Ngige and Mr President the Petroleum minister succeeded in their previous portfolio? #MinistersInauguration pic.twitter.com/CeRqkds9yy

— Olonitola Tunde Victor (@thestatewriter) August 21, 2019
Obviously, Nigeria is a country that's not concerned and interested about education. How can you explain that Adamu Adamu got education ministry? #NextLevelCabinet #MinisterialInauguration

— Bola Bakare (@Ajiboladedolapo) August 21, 2019
What did Adamu Adamu achieve in the last 4 years for him to be retained as Minister of Education? What radical educational policies did he introduce at the basic level or for tertiary education? Why not entrust that VERY IMPORTANT SECTOR to someone else?

— Dr. Dípò Awójídé (@OgbeniDipo) August 21, 2019
#BuhariCabinet
Their works will only speak for them, we shall place them by it. No PRESUMPTION, No PRE-CONDEMNATION pic.twitter.com/71pndpbTlO

— Olufunke Lawson (@bravefacefunkie) August 21, 2019
Breaking:

Sunday Dare from Ogbomoso, Oyo state is the new Minister of Sports. He replaced @SolomonDalung#BuhariCabinet pic.twitter.com/DldcNYWFqS

— Akanni Seyi (@HonseyjMr) August 21, 2019
Now the Ministry of Finance, Budget and National Planning are under one ministry under the leadership of Zainab Shamsuna Ahmed #BuhariCabinet #NextLevelCabinet

— Giwa Murtala Omotola-Moore (@GiwaMoore) August 21, 2019
Rotimi and Gbemi strong combo in transportation #BuhariCabinet pic.twitter.com/0EViFKalh5

— Candour (@Alexiza7) August 21, 2019
Why make Keyamo a junior Minister to watch over Akpabio?

Keyamo needs to be in the Ministry of Justice! Not Niger Delta!!#BuhariCabinet

— O.A.U. Gadi (@HermattanLLC) August 21, 2019
How cabinet ministers emerge in Nigeria…#BuhariCabinet pic.twitter.com/fMNDwTUEP9

— mouthy (@mouthy_93) August 21, 2019
This is a complete list of incompetency. There's nothing to expect from these combinations. Sylva ministry of petroleum? How? As as how na? What's his experience or qualifications? God please wipe out this set of Nigerian leaders. Amen #BuhariCabinet pic.twitter.com/VuBq1UAXt4

— Gregor Mendez (@Ambgregory) August 21, 2019
Festus Keyamo said he would Unbundle the Supreme Court during his ministerial screening by the Senate. Obviously, the cabal think that's exuberant. So, they shipped him to be Minister of State for Niger Delta, to pacify regional agitations with constitutionality.#BuhariCabinet

— Hon. Ben Igbakpa (@benigbakpa) August 21, 2019
Today we all witness live inauguration of the people who will wreck, steal and embezzle Nigeria's & Nigerians money for the next 4years! #BuhariCabinet pic.twitter.com/rzZCCJNxvy

— Black AbrahamLincolN (@Darksaint_911) August 21, 2019
Another 43 thieves have been appointed. We're screwed. #BuhariCabinet pic.twitter.com/ySX0HhYF1I

— Bayocanny 🇳🇬➡️➡️🇨🇦 (@loladebayonle) August 21, 2019
Sunday Dare displayed a impressive knowledge of IT during the ministerial screening. No record in his CV show sports participation. So PMB made him minister of youths and sports. Reminds me of when Omar Baba 👇gave an amputee a Christian Louboutin shoes. #BuhariCabinet pic.twitter.com/RCVvmDoo1f

— Obinna Nwosu (@obi_Nwosu) August 21, 2019
Sunday Dare would have been left in communication. He did well during the ministerial screening. His knowledge about communication is top notch. Guess what, he was assigned Minister of Sport/youth development.#BuhariCabinet

— Ndubuisi Vincent 🔌 🇳🇬 (@ndubuisi_nv) August 21, 2019
Adamu Adamu still made it to the Ministry of Education, Chris Ngige still made it to Labour and Employment Ministry and Mohammed Bello still made it to FCT.

Buhari doesn't even gauge public opinion. He is so aloof. #MinisterialInauguration #BuhariCabinet

— MR. Ikman5 (@Ikman5) August 21, 2019
Why replace a man with 4 Years' experience with a man who does not understand the problem of the sector?

Babatunde Fashola said funds were a major setback, now that you've injected 600 Billion into the sector, why replace the man who understands the problems?

— Akinpelumi Akinboye (@theakinakinboye) August 21, 2019
Buhari maintaining Petroleum Ministry shows one thing – his pry interest is the cookie jar. His priority is the money, not development. Else, he'll have chosen to be Minister of Health, Education, Power or Security to show urgency.

Next level will change nothing. #BuhariCabinet

— Ayò Bánkólé (@AyoBankole) August 21, 2019
The #BuhariCabinet is made of no youth, yet he promised in this #NextLevelCabinet that the youths will be included and they started fighting everybody #whyisthat pic.twitter.com/nlw07AWICs

— The Service Culture Guru (@PrisciliaAmadi) August 21, 2019
Read More News. Download Naija News App. Send us enquiries and press releases.