Asari Dokubo Slams IPOB's Nnamdi Kanu Over Attack On Ekweremadu (Video)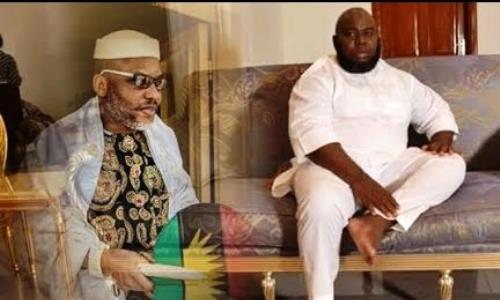 Dokubo Blames Kanu For Attack On Ekweremadu
Asari Dokubo, leader of the Niger Delta Peoples Salvation Force, (NDPSF), has condemned the attack on Ike Ekweremadu, former Deputy Senate President of the Senate.
Naija News recalls Ekweremadu was attacked on Saturday in Nuremberg, Germany by angry members of the Indigenous Peoples of Biafra (IPOB).
After the attack, IPOB leader, Nnamdi Kanu, while justifying the action, had also come out to warn other leaders and politicians from the South-Eastern part of the country that they may also face similar humiliation.
However, reacting to the saga, Dokubo blamed Kanu for the attack on Ekweremadu, describing him as an ingrate. Dokubo was quick to remind everyone in his speech that Ekweremadu worked with other leaders from the region to ensure Kanu's release from custody when he was arrested by the federal government, wondering why he had to be repaid in such terms.
Dokubo said: "Fellow Biafrans, I saw this coming. That a frankenstein monster was being created. I saw the signal, I saw the red flag and I warned you that if something is not done about Nnamdi Kanu, he will consume the Igbo people. And you did not listen," Dokubo said.
"I took some time more than 24 hours after the break of the news on the dastardly and cowardly attack one of our finest and one of our best, Ike Ekweremadu, who I know very well was one of the people who made this ingrate, Nnamdi Kanu, to come out of prison.
"I am privy to most of the discussions and I feel very sad that I was part. I participated in those meetings. Ike Ekweremadu and Abaribe were the arrow head that moved for the release of this ingrate, Nnamdi Kanu. That Ike Ekweremadu will be attacked, disgraced, his clothes torn for what purpose, to achieve what. If this dangerous path is not stopped among Igbo Biafrans, where one man arrogates to himself the right to give life and to pronounce death, you will be in fire because others will fight him."
Watch the video below: