Isheri Killing: The Aftermath Of The Incidence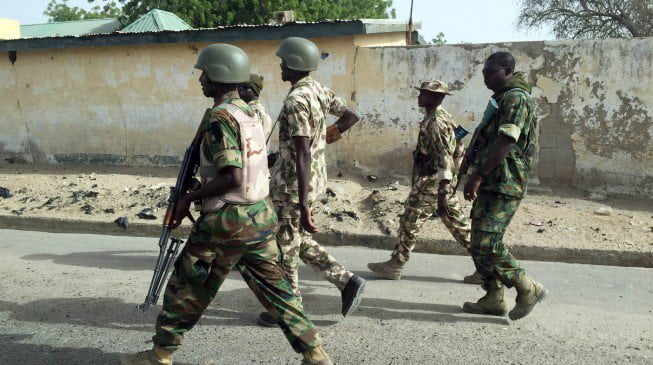 After Monday's incidence in Isheri Olofin in Ogun State, where soldiers allegedly killed three community members, residents are still very much afraid.
Recall Naija News reported that trouble started when the community staged the 'Isheri Day', an annual carnival.
The soldiers were said to have followed one Tiri, who is an indigene of the community, however, some of the community members resisted the soldiers, who attempted to make way for Tiri to pass in the midst of the crowd.
The incidence then degenerated as the drunk soldiers, who were allegedly trying to protect their principal, opened fire on the residents.
While two persons were said to have died on the spot, another resident, Adelani, who sustained gunshot wounds in the leg, was rushed to the hospital.
The soldiers were said to have fled the scene on a motorcycle.
However, the angry resident stoned one of the soldiers who was later rushed to the hospital by his colleagues.
The soldiers who were said to have met Adelani in the hospital, ordered the doctor to treat their colleague at gunpoint while they took Adelani and stabbed him till death.
Adeola Lukman, A youth leader in the community, called on the government to curb the excesses of soldiers posted to the area as the residents were now living in fear.
He stated, "People are now living in fear of another attack by the soldiers. Some have even stopped sleeping in the community. Whenever there are issues between couples, the wives will go and hire soldiers to beat up their husbands.
"The soldiers are even having affairs with some of the wives of the residents. We plead with the government to address this issue, because we can't fight the soldiers. And the police cannot address the matter, because they usually claim that the soldiers are more powerful."
Adelani's brother, Saheed Jimoh, who spoke on behalf of the family, said his death had dealt a terrible blow to the family, adding that the government should help them get justice for the victims.
Jimoh said, "Since the incident occurred, my parents have been heartbroken, especially my mother. The painful thing is that my brother was not a troublesome person. I want the government to help us; I want justice for my brother, who was murdered in cold blood.
"The worst part is that we don't have money for his burial expenses. We already paid money to ensure that the corpse was deposited in the mortuary. And, we are spending money to follow up with the investigation."
A statement on the incident by the Army authorities, however, said its operatives were in the locality in response to a distress call over the activities of cultists in the area.