Defend Yourself Against Alleged Certificate Forgery, Perjury – APC Tells Gov Abiodun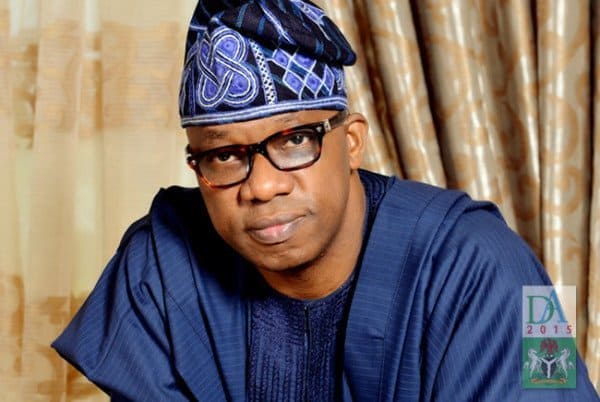 The Ogun State chapter of the All Progressives Congress has urged the governor of the state, Dapo Abiodun, to defend himself following the educational certificate forgery and perjury levelled against him.
The Chairman of the party, Derin Adebiyi, stated this during an interview with journalists on Wednesday.
Adebiyi, who has stood against the dissolution of the state's APC executive by the Nation Chairman of the party, Adams Oshiomhole, stated that he was not involved in the screening of the Ogun State governor before the governorship election, he stated that everything was done by the National Chairman.
Recall that Naija News had earlier reported that the Assembly of Patriots International asked the Inspector-General of Police, Mohammed Adamu, to investigate the certificate forgery against the Ogun State Governor.
The Secretary of API, Olasukanmi Oyekale, in a petition alleged that Abiodun made a false declaration under oath when he contested the senatorial seat in 2015 and during the 2019 governorship election in his form CF001.
The Ogun State APC Chairman stated that he was not involved in the selection of Governor Abiodun as the party's governorship candidate.
Adebiyi maintained that the records with him confirmed there were discrepancies in what Gov. Abiodun filled in his INEC Form CF001 in 2015 when he was contesting for Ogun East senatorial seat and what he filled in the same form for his 2019 governorship race.
"Don't forget that Gov. Dapo Abiodun contested for the senatorial senate in 2015 under this party. He submitted documents to the party and to the INEC. This is an open file. Mind you, all these documents are with some people. He came this year, and they said he only has school certificate."
"It is very easy to tell lies but it is not easy to cover it, because if you tell one lie today, you will need 100 lies in a year's time to sustain it. You cannot tell me that in 2015, you're 20 years old and you come and tell me in 2019 that you are 18 years old; it does not make sense. For the purpose of elections, the INEC stipulates that we will go before the judiciary and swear an oath and we will sign. People have the record, which I also have with me." he said.
He further stated, "In dealing with official matters, I have always been very consistent. I don't care whose ox is gored and I don't fear to tell the authority anything but the truth. We are talking about fighting corruption, if we are going to fight corruption, it must start from us. The maker of what you're saying, I think he is in a better position to explain this. As far as I am concerned, we have records that confirmed what you are saying. In the record, what he submitted in 2015 is what we have in the record."
He added that though the governor is still enjoying immunity as a sitting governor, this does not stop him from being investigated.
"I know as a matter of fact that as a Governor he now has immunity. I equally know according to the judgment of the Supreme Court that, the immunity does not say that he may not be investigated; they may have to wait until he drops his immunity before he can be charged for anything. But to me, we must endeavour to do the correct thing at all times."
"The correct thing is that justice must prevail; fairness, justice and equity. We must have one law. If the law says this is the way things should be done, if anyone contravenes it, that person should be punished so that they will know that truly, we are fighting against corruption."
"I am very sure he has been dragged to the judiciary and he is in a better position to explain his points. I know he will not be found culpable because of he as a governor, he will explain himself."
"He is in a position to controvert it and set the record straight. To me, it is a new allegation but I cannot deny the fact that what you are saying, I saw it on the file"
Adebiyi accused the APC National Chairman of plunging the party into danger, he stated that the National Chairman was behaving like an undertaker.
"This party is in danger with Oshiomhole as the head. Oshiomhole is behaving as an undertaker. Oshiomhole is not a democrat. He could have come as a military person," he stated.