El-Zakzaky, Wife Head Back To Nigeria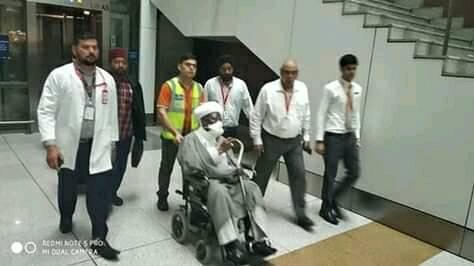 Ibraheem El-Zakzaky, the leader of the Islamic Movement in Nigeria (IMN), also known as Shiites and his wife, Zeenah Ibrahim, are on their way back to Nigeria from India.
Naija News understands that the couple will be coming back to the country three days after embarking on a medical trip to the Asian country.
A report monitored on TheCable by Naija News, quoted a source close to El-Zakzaky, to have said that the Federal Government led by President Muhammadu Buhari frustrated his efforts to get treatment in India.
"Following lack of a breakthrough in the impasse that ensued in the treatment in New Delhi of Sheikh Ibraheem Zakzaky, it is now confirmed that the Sheikh is on his way back to Abuja," the statement read.
"In a video message sent through his office, the Sheikh said it was decided that they will be taken to the airport to be flown back to Nigeria. He has left Delhi by 17:00 Nigerian time. He prayed that may that be the best option in the circumstances.
"The Nigerian government's interference and scuttling of the whole process rather than supervision as ordered by the court is the direct cause of the impasse. The government never wanted the medical leave in the first place, and did whatever to stop it by all means possible."
This will be coming after the Nigerian government made revelations on the outcry by the Shiites leader over his medical treatment in India.
Naija News recalls that El-Zakzaky had refused treatment from those he called "unknown doctors" put in place to treat him in India, insisting to be treated by those booked to treat him before he and his wife left Nigeria.
Reacting to the furore, the Federal Government, through the Permanent Secretary, Ministry of Information and Culture, Grace Isu Gekpe, recalled the genesis of El-Zakzaky's situation.
The Federal Government in a statement Monday night, August 14, recalled that the Court on 5th August 2019 granted EL-Zakzaky leave to travel to India for medical treatment.