You Are A Completely 'Out Of Touch' Leader – Ezekwesili Blasts Buhari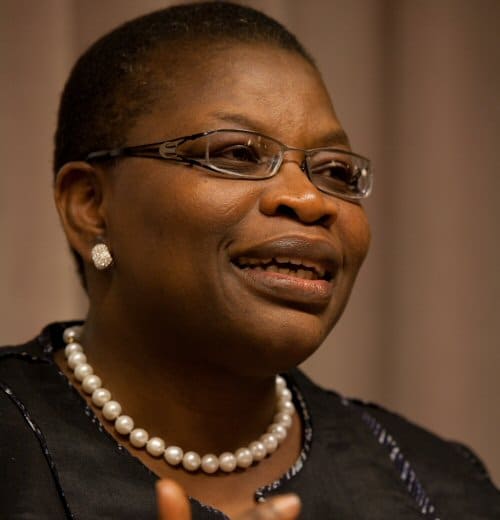 President Muhammadu Buhari has been described as a "completely out-of-touch leader" by a former minister of education, Oby Ezekwesili.
This is just as he gave a directive to the Central Bank of Nigeria (CBN) to stop providing foreign exchange for food importation.
Recall that yesterday, the president, through his media aide, Garba Shehu, asked the CBN to stop issuing a foreign exchange for food importation.
According to him, this would help to stimulate the growth of agriculture and to ensure food security.
However, some Nigerians have criticized the president's directive, including a former deputy governor of CBN,
Kingsley Moghalu, who opined that such an economic policy should not be imposed on the CBN by a political authority and that the bank has lost its independence.
"Nigeria's entire economy appears to have been sub-contracted to our central bank, including industrial and trade policy. In the process, the economy has fared poorly and the Bank has lost its independence. This is sad," he said.
Ezekwesili also lashed out on the president on Twitter, saying he is living in a bubble.
"A completely out-of-touch 'leader'. He is cocooned away in the grandeur of @AsoRock where they serve him delicatessen and praise-sing to him: 'ranka dede sir', your agriculture policy is working wonderfully. All farmers in Nigeria are now billionaires & exporting to the US," she said.
The CBN said it will proceed with the president's directive and that the implementation of the forex ban on food import would be in phases.
We all know that @NGRPresident @MBuhari has absolute contempt for Data but we shall go ahead and put out here some of the Knowledge he should have had before making this latest blunder of 'Directing' what should be an independent @cenbank to "not give a cent for food import".
See her tweets below:
In the next few tweets, I'll share highlights of FEWS Net June 2018 to January 2019 Report on Food Insecurity in Nigeria for many reasons that any reasonable person will easily understand.

— Oby Ezekwesili (@obyezeks) August 14, 2019
We all know that @NGRPresident @MBuhari has absolute contempt for Data but we shall go ahead and put out here some of the Knowledge he should have had before making this latest blunder of 'Directing' what should be an independent @cenbank to "not give a cent for food import".

— Oby Ezekwesili (@obyezeks) August 14, 2019
A completely out-of-touch 'leader'. He is cocooned away in the grandeur of @AsoRock where they serve him delicatessen and praise-sing to him: "Ranka dede Sir, your Agriculture Policy is working wonderfully. All farmers in Nigeria are now Billionaires & exporting to the US"??

— Oby Ezekwesili (@obyezeks) August 14, 2019
I will share the latest information on Nigeria from FEWS NET, the Famine Early Warning Systems Network, which provides information and analysis on food insecurity around the world.
That our @NGRPresident thinks we have achieved Food Security says a lot about his Policy-Making.

— Oby Ezekwesili (@obyezeks) August 14, 2019
— Oby Ezekwesili (@obyezeks) August 14, 2019
Download NAIJA NEWS app: