Nigerians React As Buhari Asks CBN To Halt Forex For Food Importation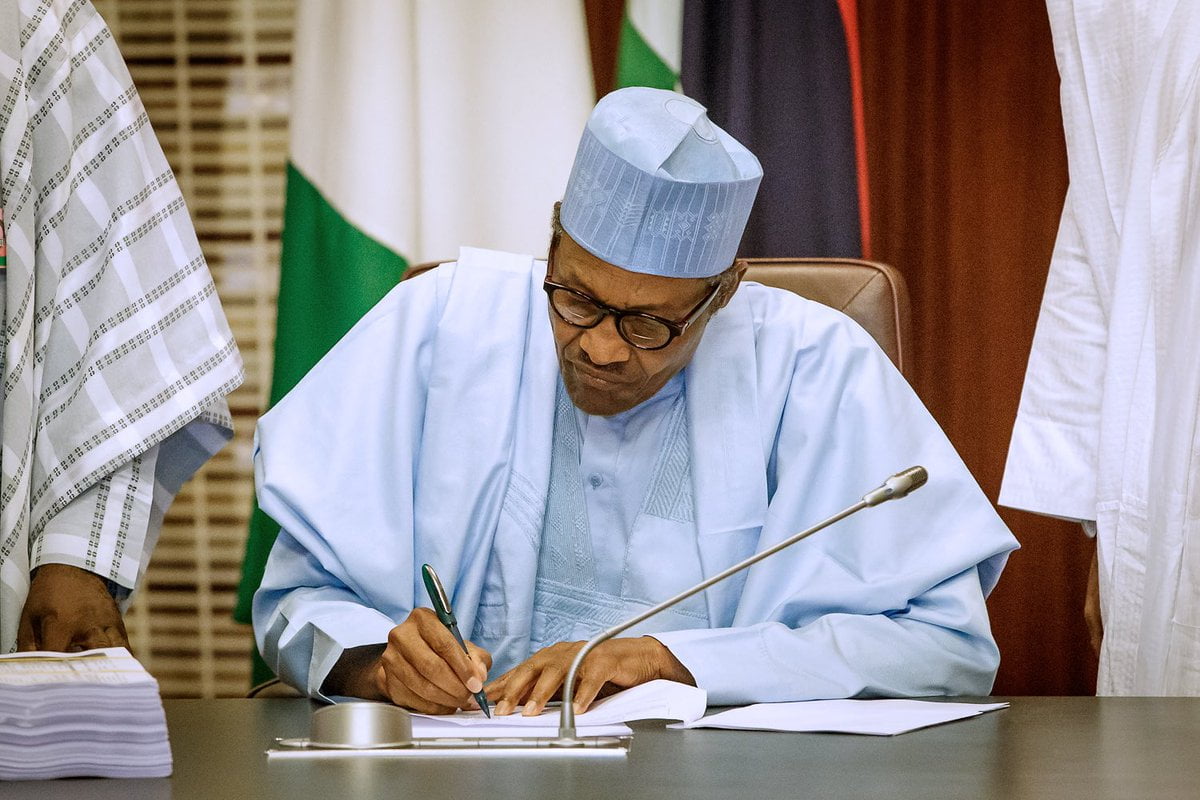 Muhammadu Buhari, Nigeria's president has asked the Central Bank of Nigeria (CBN) to stop providing foreign exchange for food importation.
Naija News understands that this was made known in a statement issued on Tuesday by the presidential spokesman, Garba Shehu.
In the statement, Shehu said the president gave the directive is to ensure the steady improvement in agricultural production and attainment of full food security.
The statement of  President Muhammadu Buhari has generated several reactions. Here are some of the reactions of Nigerians:
The President directive to the CBN to stop issuance of Forex for food importation is the right step https://t.co/zqGWuboHSm will boost food production at https://t.co/7AXfNzXELo is to hand over Agric financing to the Bank of Agriculture & not CBN & protect farmers from Kidnappers

— Senator Shehu Sani (@ShehuSani) August 14, 2019
This is the composition of the Monetary Policy Committee of @cenbank

Buhari is responsible for the DIRECT appointment of 10 of the 12 people.

Yet he decided to sit in Daura and publicly issue orders to the 'independent' CBN.

Clown country. 🤡🤡🤡 pic.twitter.com/aKfZVh8IeM

— Ose Anenih (@Papadonkee) August 14, 2019
GEJ came for Lamido Sanusi, you cheered. We told you it was a bad idea, we shouted that it sent the wrong signal to future Presidents and CBN Governors.

Now here we are. A new president ordering a CBN to basically tank the economy.

— Sandra Ezekwesili (@SEzekwesili) August 14, 2019
Foreign investments panic when they hear a President is making policies for the CBN. Things like this could wipe out their investments completely over night. Serious nations assure the global financial market that their Central Banks are Independent!

Buhari oh 😂

— Henry Shield (@henryshield) August 14, 2019
In this 21st century, which kind president wakes up one morning and be dishing orders to CBN. Where is that done?

Nigeria might never recover from the damage Buhari is doing to this country.

— Emeka Nnadozie (@ChNnadozie) August 14, 2019
Your president has asked CBN to stop providing FX for food importation. This is at a time Nigerians have been hungriest, since the civil war days. This ban however, wouldn't affect Aso Rock cuisine as you bet. Gird your loins, this journey will be perilous!
Good morning Twitter.

— Olaudah Equiano® (@RealOlaudah) August 14, 2019
1(3)CBN Act 2007;"In order to facilitate d achievement of its mandate…D Bank shall be an independent body in d discharge of its functions."

Independence refers 2d freedom of monetary authorities from direct political/government interference ind conduct of monetary policy. B gd https://t.co/FaVmPrv9e6

— Oyewole Michael 🇳🇬 (@Rolex7Michael) August 14, 2019
NO, NO, NOOOOOO! Are you guys just too dumb?! Haba! The CBN is an independent non-majoritarian govt agency for a reason: to separate politics from monetary policy decisions. When investors run to Ghana, your dumb government enabled it. These things are done stealthily. Kaiii! https://t.co/yfaT9R9Dun

— Mazi (@matthewamad) August 13, 2019
Buhari Who Doesn't Have WAEC Certificate Is Directing An Economic Expert Like The CBN Governor To Stop Forex On Food Importation

CBN That's Supposed To Be Independent

Well, CBN Is Only Independent In A Democracy

— Revolutionary Effa🏐 (@DrEffaB) August 14, 2019
I see negative comments from the usual suspects against the President's DIRECTION for local food production, against food importation.

The argument on readiness is understandable but what are these ignorant takes on powers?

By the CBN 1991 decree..
He very well can. Admin 8(2) pic.twitter.com/A3iwvFJjV5

— سل (@OtunbaSula) August 13, 2019
What exactly is it with Buhari, FX & CBN?

Am I the only one who sees the dangers in the Nation's Central Bank taking direct orders from The President, regardless of the negative economic impact such orders may bring about? Is the CBN now an agency of the presidency?

Thread👇 https://t.co/mADluW4cRy

— The Revolutionary Seeker (@The_Seeker76) August 13, 2019
Read More News. Download Naija News App. Send us enquiries and press releases.