Prophet TB Joshua Reveals Why Buhari Cannot Take Nigeria To 'Promised Land'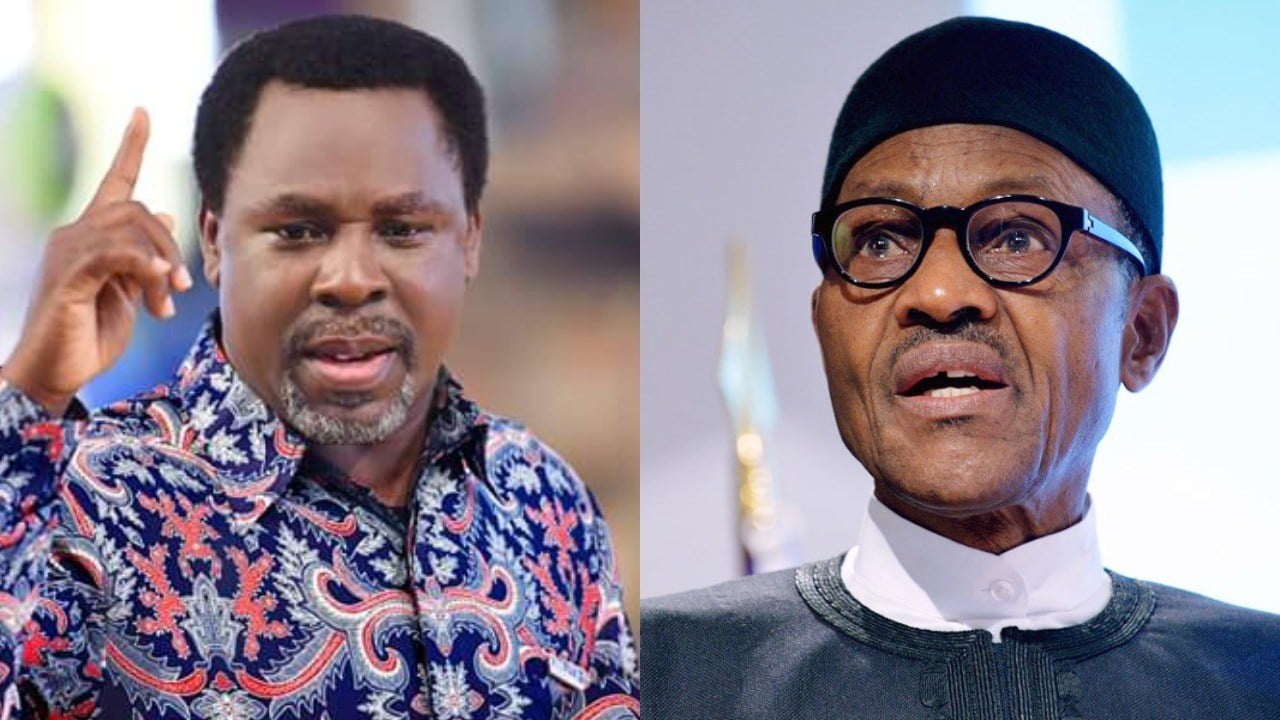 Prophet T.B Joshua, the founder of the Synagogue Church of All Nations (SCOAN), says it is difficult for President Muhammadu Buhari to lead Nigeria to the "promised land" because of the huge problems he inherited from previous administrations.
Naija News understands that the SCOAN General-Overseer who recently visited Israel for his church event tagged the "Nazareth Meeting with TB Joshua," made this comment in an interview with The Maravi Post recently.
Prophet T.B Joshua said: "Until what they inherited from their past predecessors is no longer burdensome (that is when Nigeria is going to get to the Promised Land).
"Like the issue of (this) administration, the person in power (President Buhari) is still battling with what he inherited, he has not started a new thing.
"Some may continue battling with theirs throughout their tenure.
"It's like somebody's father dying and there is a huge debt to settle. You realise that either you denounce that father or carry the responsibility. You begin to pay the debt for his house and other things – and that may take your time and career.
"I think the problem is that we have many leaders, but we fail to take time to develop people's skills – they have no disciples.
"No one can do it alone, even Jesus Christ knew this and that was why He had disciples.
"But we have leaders without disciples in every area. Not in the political circle alone, but churches too.
"Take your mind back to some late great men of God in Nigeria, how many of them had disciples? Look at the political circle; take your mind back to the olden days – how many of them had disciples?
"It takes time to develop people's skills, but how many people will do that? You will be persecuted and hated even among the people you are developing.
"Many of them will be Judas and in the process of developing them, they will go out and say all sorts of things against you, they want to bring you down- but at the end of the day, you still see one or two of them that are good.
"Of course, you know what happened to Jesus because He was developing skills, making disciples.
"People are afraid to develop skills because, in the process of developing people's skills, you look at the repercussion.
"When you weigh the disadvantages and advantages, one would be afraid to go into it – but the future is great because you will live forever if you take time to develop people's skills and make disciples out of them."
Continuing, the influential cleric goes scriptural:
"This is what the Bible said. It says – Go ye into the world and make disciples.
"We have leaders without disciples – and no one can go it alone. We need good people, inspired people and informed people to achieve our dreams and objectives – and Jesus knew this," Prophet T.B Joshua was quoted to have said.