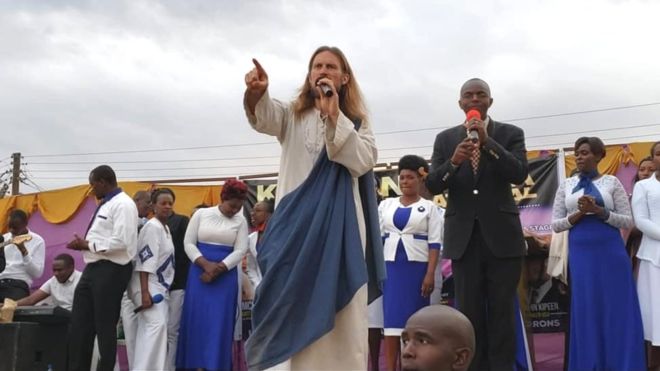 A US preacher and actor (Fake Jesus), Micheal Job, has reportedly died after attending an interdenominational Christian event as a guest speaker.
It was gathered that Michael Job succumbed to pneumonia while receiving treatment at the Heyn Hospital.
Photos and videos showing him dressed as Jesus Christ and preaching at a crusade in Kenya had been widely shared on social media across Africa.
Kenyan authorities were also reported to have deported the American actor, preacher and president of Jesus Loves You Evangelistic Ministeries.
However, Job took to his Facebook page to deny his deportation and the arrest of pastors that invited him to the country for the crusade.
"Hey guys! Just to let you know there has been many false 'fake news' reports here in Kenya about me. I just did nine days of crusades in Ongata Rongai, Kitengela, and Kiserian Kenya where many people were saved and healed," he wrote on Facebook.
"I dressed up as Jesus during these crusades my awesome friends and I performed many plays focusing on the life of Christ. Some people, known as 'internet trolls', have made false reports about me claiming to be Jesus, Jesus' second coming starting in Kenya, me being found and worshipped in churches, and me being deported with pastors from the country, all of which are 'fake news'."
Source: Naija News