Prophet TB Joshua Explains Vision God Gave Him About Nigeria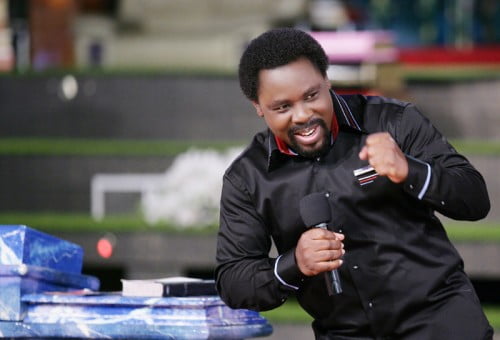 The founder of the Synagogue Church of All Nations (SCOAN), Prophet T.B Joshua, says Nigerians will understand the vision God gave him concerning Nigeria "very soon."
Naija News understands that the SCOAN General-Overseer who recently visited Israel for his church event tagged the "Nazareth Meeting with TB Joshua," was reacting to his sermon a fortnight ago where he called for urgent prayers for Nigeria against "interruption of democracy" in the country.
Speaking at the SCOAN headquarters in Lagos, Nigeria's commercial city during a Sunday Service, Prophet TB Joshua said he has resorted to passing his message in parable because Nigerians and the whole Africa misunderstand him.
His words: "Two weeks ago, I was talking about a vision concerning my nation," he says.
"I saw a Seraphim. Seraphim came down with the rain.
"That rain brought about calmness and freshness.
"But people don't know what I was talking about.
"Very soon, you will understand what I am talking about.
"Even though it is very bad and very rough now, you will smile.
"I'm in a nation; in a continent, they don't understand me.
"If you understand me, I will talk to you – one-on-one. But if you don't understand (me), I have to talk to you in parable.
"I'm in your midst, but you don't understand me.
"Four years ago, I was telling my people that we are in the valley and our future is crying for help.
"They called me all sort of names, but what is happening today?"
The 56-year-old clergyman continued: "But then, there was food on the table. Everything was fine; everything was okay. But I was telling you this is valley, our future is crying for help.
"And I say, politics will not be as usual. But can a gentleman join politics again?" Prophet TB Joshua questioned.
Download NAIJA NEWS app: