Watch What A Danfo Driver Did To LASTMA Officials (Video)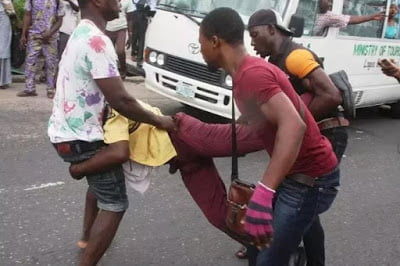 An unidentified but middle-aged driver of an eighteen-passengers Danfo bus on Wednesday stripped himself naked to evade being arrested by officers of the  Lagos State Transport Management Authority (LASTMA).
In a video obtained by Naija News, it was understood that the driver must have committed a traffic offence to have attracted the attention of the officials of the LASTMA who insisted to arrest him and have him pay a fine according to the Lagos Traffic act.
The Danfo-driver who apparently has not made any tangible money for the feeding of his family, let alone making extra income to bail himself out of his offence,  was sighted seating on the floor after stripping himself naked.
The Danfo driver while seating on the ground naked, brought out some instruments from his vehicle repeatedly threatened to take his own life.
The LASTMA officials who seem careful not to be the cause of his suicidal intentions, stepped back while they watch his drama.
Naija News understands that the LASTMA official had been trailing the Danfo Driver after he had repeatedly committed traffic offences in the neighbouring bus terminals, but luck ran out of him as he was accosted in the Yaba area of Lagos where he sat on the ground, stripped himself naked and threatened to take his life in an attempt to avoid been arrested.
However, it was unclear whether the LASTMA official eventually arrested him or had to let him go after his threat to kill himself.
Watch the video below;
Source: Naija News