Official: Arsenal Announce Signing of Nicolas Pepe From Lille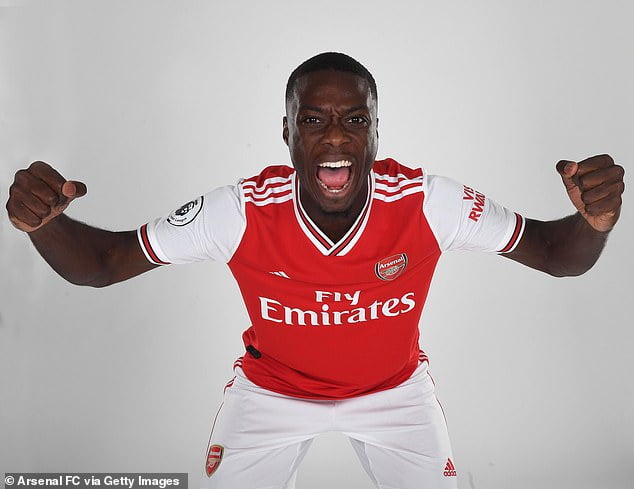 Arsenal on Thursday announced the record signing of Ivory Coast winger Nicolas Pepe from Ligue 1 side Lille.
The 24-year-old completed the paperwork on his move on Thursday and he will wear the No.19 shirt for the 2019/20 football season.
Pepe joined the Gunners for £72 million ($87m) in a long-anticipated move, becoming the most expensive acquisition in the English Premier League club so far in the transfer window.
Head coach Unai Emery said: "Nicolas is a highly-rated and talented winger who was wanted by many of the top teams in Europe.
"Signing a top-class winger has been one of our key objectives in this transfer window and I'm delighted he's joining.
"He will add pace, power and creativity, with the aim of bringing more goals to our team."
"When I knew I was coming to Arsenal, I immediately thought of the French guys who play here," Pepe told the Arsenal's official website.
"I thought of [Mesut] Ozil, the world champion, [Alexandre] Lacazette, [Pierre-Emerick] Aubameyang and many more. Of course, these are players who sprang to mind because I used to watch them when I was at Lille.
"Also, Lacazette used to play for Lyon and so I have had the opportunity to play against him. It will be an honour to play alongside him."
Pepe joins a list of several Ivorians to have worn the white and red jersey of Arsenal and says they have also offered advice as to how he might make an impact at the Emirates.
"Kolo Toure was with [the Ivory Coast] squad as an assistant coach [at the Africa Cup of Nations]," Pepe added.
"He spoke to me a lot about the very high level, how he got to Arsenal and how you always have to work hard and really graft on a daily basis to get right to the very top.
"Toure, [Emannuel] Eboue and Gervinho are the major players from the Ivory Coast.
"We talk a lot about Gervinho, for example, who played for Lille and ended up at Arsenal, so I am on the same path.
"They are definitely examples to us young Ivorians and I hope we will continue to follow these examples."
Source: Naija News