Nigerians React To Dangote's N288bn Milk Production Plan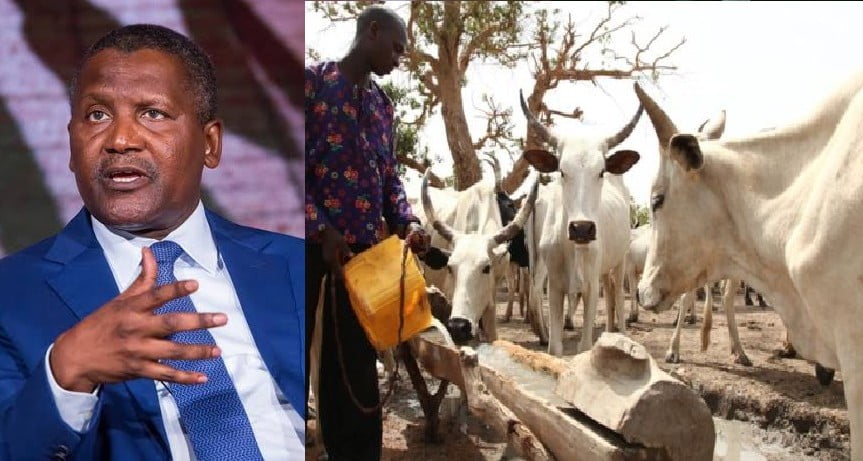 A storm of reactions by Nigerians has greeted the decision by the President of Dangote Group, Aliko Dangote, to invest $800 million (N288 billion) in dairy production in the next three years.
Naija News understands that Dangote will own 50,000 cows by 2019, and produce 500 million litres of milk per year.
Also, Dangote Group, principally owned by Africa's richest man, plans to invest $3.8 billion in sugar and rice
An estimate by the World Health Organisation (WHO), says Nigeria needs about 1.5 billion litres of milk annually.
The department of agriculture of the WHO, puts Nigeria's "insufficient" milk import at $225 million per year, stating that the country's dairy market has a potential in excess of $3 billion.
Naija News understands that the development means Dangote Group will produce a third of Nigeria's ideal demand and nearly all of its current import.
A report by Bloomberg, says Dangote Group seeks to expand and deal with a shortage of dollars needed to import raw materials.
Moments after the news Dangote's proposed milk production broke, Nigerians took to the micro-blogging site, Twitter,  to air their opinions on the plan.
Naija News captured some of the reactions below…
We talk China but don't want to sacrifice as China. I know most Nigerians are insane what I don't know is that these folks attacking Dangote are these mad. We're not just ok #MilkBanPolicy

— Heywhy (@DreamHeywhy) July 28, 2019
Dangote assembled cars here in Nigeria . GAC https://t.co/6EQULo0Hzr

— Amedu (@amedu14) July 28, 2019
Stop being dumb, when Alhaji Putin aka Dangote feeds fat on a nation refusing to pay taxes because of pioneer status, runs a monopoly of cement; selling the most expensive cement in West Africa and now the CBN practically dashed him $$$ to build his refinery, we have a problem.

— Used to be cynical about Nigeria's future (@drbanj) July 28, 2019
I always knew there was a hidden hand behind this new fx for milk restriction. We just didnt pay attention when the hand showed itself in May 2019

— Igala High Chief (@I_Am_Ilemona) July 28, 2019
So what's the crime if a Nigerian invests in Nigeria employing the same jobless Nigerians,stops capital flight and exploitation of Fx using import. What is scandalous in it?does Dangote employ only Hausas? demonizing local investment shouldn't be misconstrued to be smartness. https://t.co/IBAHGzTeVN

— Femi Njoku #TeamEsther (@FemiDenning) July 28, 2019
You can't blame the government for supporting dangote… The man is just smart…. Always staying nuetral.

Innoson will be running mouth anyhow.

— Bad smoker (@SKBboi_) July 28, 2019
Dangote, Dangote
Dangote still dey find money o
I no dey, I no dey
I no dey sleep on the money o
Who I be?
Who I be?
Wey make I no go find money o
I no dey send anybody o
Me I dey hustle gan gan

Choko
Make you hustle, ma lo go
I no be olodo, I no be bolo

CC @burnaboy pic.twitter.com/MNbQgXESgm

— Senator Dino Melaye. (SDM) (@DinoMelaye_) July 28, 2019
Dangote represents the multidimensional poverty of the world capital?

He is from Kano with 3m beggars? https://t.co/py1z2Itpti

— IKECHUKWU (@iykimo) July 28, 2019
Safe to say that the Nigerian Government made Dangote the Billionaire he is today, at the detriment of the country of course.

— Kelvin Odanz (@MrOdanz) July 28, 2019
Read More News. Download Naija News App. Send us enquiries and press releases.