Biafra: Nnamdi Kanu Reveals Who Sanctioned His 'Assassination'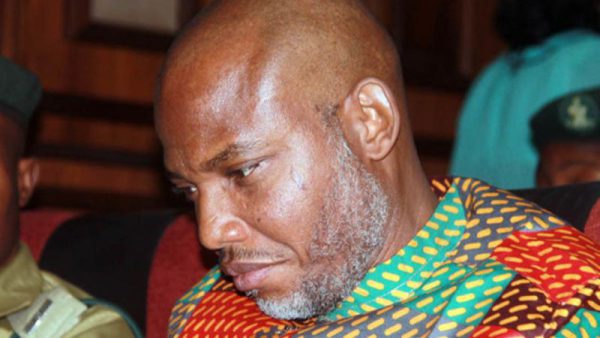 The leader of the Indigenous People of Biafra (IPOB), Nnamdi Kanu, has accused the British High Commissioner of sanctioning his assassination.
Naija News reports that the IPOB leader made this allegation during a live broadcast on Radio Biafra on Saturday, July 27.
Kanu, who focused his broadcast on the banning of the Islamic Movement Organisation (IMN) better known as Shiites, also accused the "Yoruba media" of not speaking the truth when it matters.
This, the apparently furious IPOB leader said was the problem of Nigeria and Africa, even as he went ahead to describe black race as a "wicked race" and a "disgrace to humanity."
His words: "The black race is a disgrace to humanity. The black race is an eyesore. Black people do not deserve to walk on the face of the earth.
"Quote me we are a wicked race. Black race is a wicked race mark my words today. No wonder Michael Jackson was bleaching himself to be white. Apologies to Michael Jackson now we know what you saw.
"They said I should speak as a Head of State, which Head of State when evil is taking place?
"Are you aware that the British High Commissioner sanctioned my assassination? Are you aware of that?"
Naija News recalls that IPOB in September 2017, said the Nigerian Army invaded Kanu's residence in Abia state, southeast Nigeria.
The invasion, according to the spokesman of IPOB, Emma Powerful, left about five youths killed and about 30 injured.
"The Hausa Fulani soldiers and Police Nigerian uniforms came to kill our leader Mazi Nnamdi Kanu in his compound at Afaraukwu Umuahia and started shooting sporadically and killed five people and up to thirty people with bullets wounds, after attacking our people they went off, they came with 5 Hilux vans," he said.
However, the Nigerian Army, on the other hand, denied the allegation by the IPOB spokesman, with the 14 Brigade Nigerian Army, Ohafia, saying it was the residents in Kanu's home country that threw stones at the military officers when they sighted Armoured Personnel Carrier.