Full List Of Past Chief Justices In Nigeria (1955-2019)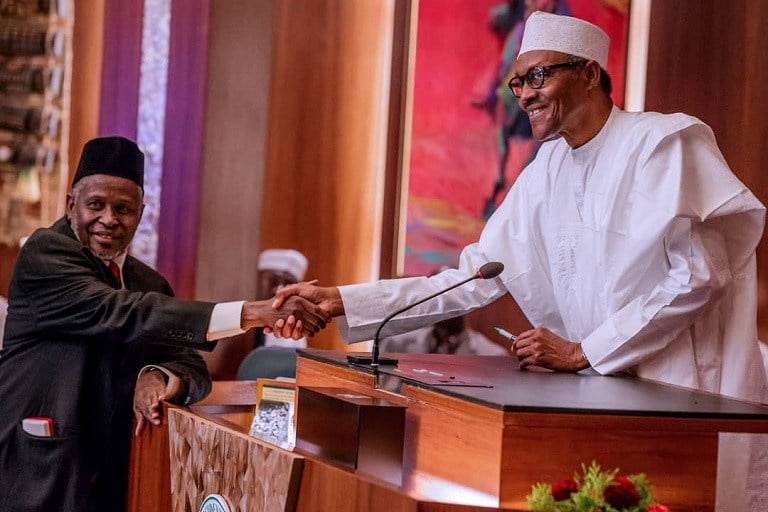 Former Chief Justices In Nigeria
The Nigerian Senate on Wednesday, July 17, confirmed Justice Tanko Muhammad as the substantive Chief Justice of Nigeria (CJN).
Muhammad had been acting CJN since January 25 when the then CJN, Justice Walter Onnoghen, was suspended from office over alleged corrupt practices and not fully declaring his assets.
President Muhammadu Buhari had last week requested the Senate to confirm Muhammad as the substantive CJN following his recommendation for the office by the National Judicial Council (NJC).
Below is a list of past Chief Justices of Nigeria (CJN) as listed by the NJC:
Hon. Justice Stafford Foster Sutton (Past CJF) 1955-1958
Hon. Justice Adetokunbo Ademola KBE, GCON 1958–1972
Hon. Justice Taslim Olawale Elias CFR, GCON 1972–1975
Hon. Justice Darnley Arthur Alexander CBE, KCMG, CFR, GCON 1975–1979
Hon. Justice Atanda Fatai-Williams CON, GCON 1979–1983
Hon. Justice George Sodeinde Sowemimo CON, GCON 1983–1985
Hon. Justice Ayo Gabriel lrikefe OFR, CON, GCON 1985–1987
Hon. Justice Muhammed Bello CON, GCON 1987–1995
Hon. Justice Muhammadu Lawal Uwais CON, GCON 1995–2006
Hon. Justice Salisu Modibo Alfa Belgore CON, GCON 2006–2007
Hon. Justice Idris Legbo Kutigi CON, GCON 2007–2009
Hon. Justice Aloysius Iyorgyer Katsina-Alu CON, GCON 2009–2011
Hon. Justice Dahiru Musdapher CON, CFR, FNIALS, GCON 2011–2012
Hon. Justice Aloma Mariam Mukhtar CON, CFR, FNIALS, GCON 2012–2014
Hon. Justice Mahmud Mohammed CON, GCON 2014–2016
Hon. Justice Walter Nkanu Onnoghen, GCON 2016-2019
Source: Naija News