Nigerians React As Northern Elders Ask Herdsmen To Relocate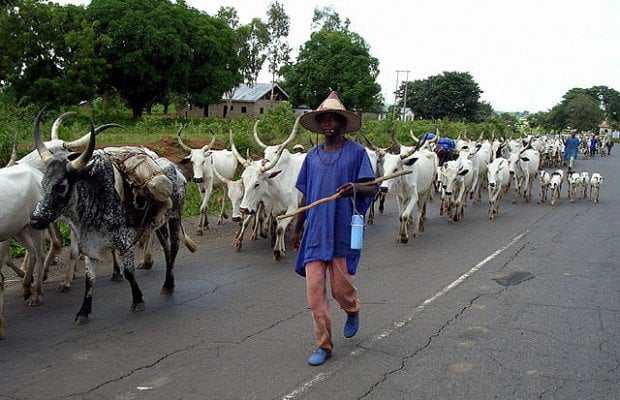 The Northern Elders Forum (NEF) has stated that information at their disposal reveals that some individuals are plotting to harm herdsmen in the southern part of Nigeria.
Speaking after a meeting with the Coalition of Northern Groups (CNGs), Ango Abdullahi, chairman of the forum, asked herdsmen to leave the region if their safety is no longer guaranteed. CNG had threatened to evict southerners from the north over the federal government's suspension of Ruga.
Meanwhile, the statement of the group has generated several reactions on twitter. Here are the reactions as follows:
The Northern Elders Forum just instructed all Fulani herdsmen in the south to vacate the region if they feel their 'Security is no longer guaranteed'

Ain't we sitting on a time bomb?

But atleast, we don't know the position of miyetti Allah on this development. pic.twitter.com/fuCXKHeOoE

— Oye Ola Oladimeji (@OfficialOye_Ola) July 16, 2019
Breaking: Northern Elders Forum orders herdsmen out of South.

Nigeria is sitting on a time bomb.

Good evening y'all and stay safe.

— Shalom Miriam Shehu (@MiriamShehu) July 16, 2019
I welcome the call by Northern Elders Forum & the Coalition of the Northern Groups ordering Fulani herdsmen to leave the Southern parts of the country& return to the north where their safety & those of their cows are guaranteed.

This is the first step to pursue peace.

— FOLARIN OPEYEMI JOSEPH FOJ (@opeyemifolarin1) July 17, 2019
"Northern Elders Forum" should also inform them not to fight or kill anybody in the process of moving back to north, It not the southerners that asked them to leave.
we want peace and not war pic.twitter.com/7w5Hmun4ot

— OLADELE MOTAYO (@perogunner) July 17, 2019
The call by the Northern Elders Forum to herdsmen to leave the South will not solve the farmers/herdsmen crisis in the middle belt and other parts of the North.

— I.R.O (@RichyMaguire) July 17, 2019
We welcome the Northern Elders Forum request that Fulani Terror Group should leave the South to the North, but remember that the ever lying Vice president Yemi Osibanjo stated that military will be deployed on the road. We Say no to military deployment on our roads. @WhiteHouse https://t.co/hyGlJP3AYH

— Noble Humble Nzeadibe (@NNzeadibe) July 17, 2019
we feel obliged to advise the leadership of the Northern Elders Forum to consider calling on the Fulani to forego their right to live and flourish anywhere in the Southern Nigeria.#WednesdayMotivation #WednesdayThoughts

— zeenab (@zeenabT8) July 17, 2019
Thank you OBJ for your open letter. Dividends are already trickling in as Northern Elders Forum order herdsmen to leave Southern Nigeria.

Nobody has a monopoly of violence. Peace and unity of Nigeria must take precedence over parochial ethnic interests.

But aluta continua!

— Chijioke Ugboguru (@ugboguru) July 17, 2019
The clamour by Northern Elders Forum & the Coalition of the Northern Groups will mean nothing if the obsolete practice of wandering and trespassing; and mentality of overindulgence by herders remain. Our laws express mutual respect. We mustn't struggle over rights & recognition.

— Hon. Ben Igbakpa (@benigbakpa) July 17, 2019