Nigerians React As Makinde Declares N48bn Firms, Other Assets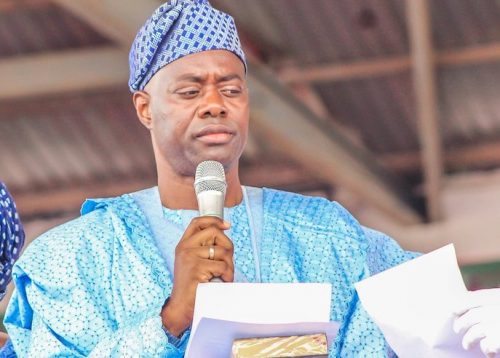 The Governor of Oyo State, Seyi Makinde, on Monday publicly declared his assets in fulfillment of his campaign promises to the people of the state.
Naija News gathered the governor visited the Oyo State office of the Code of Conduct Bureau in Ibadan to receive a copy of the asset declaration form which was previously declared at the High Court of Oyo State, on May 28, 2019.
Meanwhile, the action of the Governor has generated several reactions on the social media blog site, Twitter.
Here are some of the reactions as follows:
This is how we roll with integrity…. PMB should know that Seyi Makinde is 100 steps ahead of him on the integrity scale. Oyo State is in a good hand ?????????

— France 77 (@mathewogbezode1) July 16, 2019
His Excellency, Seyi Makinde has fulfilled his promise.

He is wealthy like Roman Abramovich
Hardworking like Ronaldo
And humble like Messi

In other news, our Daura Bakayoko of "Integrity FC" is yet to fulfill his own similar promise till date. https://t.co/zrO5x2DMMF

— Ebube The Statesman (@akaebube) July 16, 2019
So Seyi Makinde is richer than some states in this Nigeria. God please give me money that disgraces poverty ???

— MistaBolu (@mistabolu) July 16, 2019
Breaking:

Gov. Seyi Makinde of OYO state declares assets worth 48bn naira in less than 5 months in Office. I laugh in Kafanchan. OYO People are definitely on their own.#TuesdayThoughts #TuesdayMotivation #Nigeria pic.twitter.com/MorCaYJybE

— PH Boi #BBNaija ?? (@SMediaGeek) July 16, 2019
Buhari has made his followers to see poverty as a good thing, see poverty as a way of life, if not how can they be angry that Oyo Governor, Seyi Makinde declared N49b in his asset. May we never follow a leader that will degrade the way we think.

— Prince Adelaja Adeoye (@AdelajaAdeoye) July 16, 2019
Seyi Makinde: Bans NURTW. Appoints all commissioners. Declares assets.

What's your own governor doing, dearly beloved?

— M (@MuyiwaSaka) July 15, 2019
I hope the verification and declaration of sources of the Seyi Makinde's 48 billion assets would be established.

His tax liability on profits made in businesses that shot his assets to that level should also be confirmed.

The guy is putting a noose on his own neck!

— Ezeaka Chidozie Ishola Buharideen (@Ezeakachidozie) July 16, 2019
My Governor, Seyi Makinde, would have been worth like 100 to 150 billion if not for the fact that he's been spending billions contesting Gubernatorial elections since 2007.

— Dr. Fisher (@Lordfisher2) July 16, 2019
When i tell you Oyo state Governor Seyi Makinde is here to work ??..No penny of Oyo state fund will go to any Godfather ??.. We are here for business not to claim Mr tarnish Integrity like your Presido ?? pic.twitter.com/7mA1aDogog

— Walker (@Iamthemetim) July 16, 2019
My Governor is not your governor mate …. H.E Seyi Makinde #48billiongang.?????? Argue with your state Governor.?? pic.twitter.com/n0159bCxAC

— kayode adeogun (@sticktokay) July 16, 2019
Seyi Makinde isn't your regular politician. Man keep doing things that seems like a mere political statement in the political field. Appointing of opposition in his inner team to form an inclusive government, now openly declaring his assest. Your MCM cannot can.#BossMove pic.twitter.com/KVGsjP26BJ

— Mazi Emmanuel Eze ?? (@MOnwuasoeze) July 16, 2019
Details of Seyi makinde's asset declaration. He made it public without compulsion. He has won my heart completely and I will be rooting and praying for him. It's a new dawn in Oyo State. pic.twitter.com/BnJ9gvdQav

— kay (@kharyourdey101) July 15, 2019
okorocha was richer than this but look what he did to imo state

— Bumble Bee (@AyakaTerver) July 15, 2019
I think he worked at Shell for about 8 years or something. Left to start his. Himself and the present Ogun state governor have serious money. I'm hoping they can take their states forward seeing as they are entrepreneurial bigwits. Makinde I can vouch for anytime.

— Odogwu. (@harrissonpedro) July 15, 2019
Man I knew Seyi Makinde was rich, but still shocked at the value… But you see that man called Dapo Abiodun? That one ehn? Money wey dey grow like tree. Mad funds

— Otunba Àkínfímogboyè (@Ore_lawal) July 15, 2019