Nigerians Slam Tinubu Over Comment On Olakunrin's Death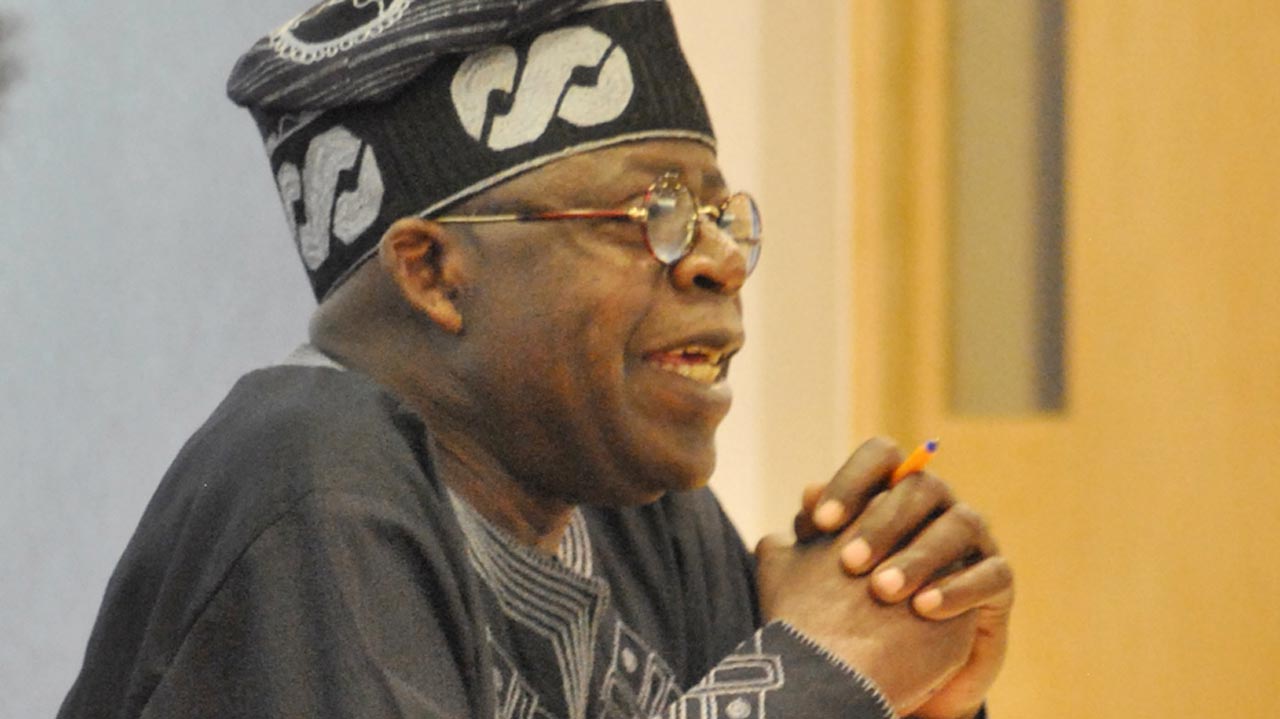 Nigerians have berated the National leader of the All Progressives Congress, Bola Tinubu, over his statement on the killing of Funke Olakunrin, the daughter of Afenifere leader, Pa Reuben Fasoranti.
Naija News had reported earlier that the Yoruba socio-cultural organisation announced the killing of Mrs Olakunrin by suspected herdsmen in a terse message on Friday by the spokesman for Afenifere, Yinka Odumakin.
Tinubu, who was in the company of a former National Chairman of the APC, Bisi Akande, said that he was concerned about the security challenges in the nation and asked Nigerians not to trivialize the issue of herdsmen.
Apparently displeased with the statement, Nigerians took to the micro-blogging site, Twitter, to blast Bola Tinubu, for asking for the whereabouts of the cows and if Evans the kidnapper was also a herdsman?
"I don't want to be political, but I will ask where are the cows?"
Here are the reactions as follows:
Fellow Nigerians!
Due to Tinubu's recent public remarks, I'll like to suggest that all 🇳🇬VIPs have their police escort withdrawn from them. So the will of God can happen to everybody together at the same time.

Just for a week…

— Wale Gates 🇳🇬🇬🇧 (@walegates) July 15, 2019
Even for a confirmed quisling and desperate serf this time Tinubu has gone too far. Funke has not even been buried yet and he is already pissing all over her bullet-riddled body. Tinubu has sold his soul to the devil and his conscience to the north.4/

— Femi Fani-Kayode (@realFFK) July 14, 2019
That Tinubu's remark about Fasoranti's daughter destined to die the way she died reminds the Great Oracle of Fela's taunt at his critics in Army arrangement: " you go carry your bodi go police station, you die unlawfully". Fela's was a taunt. Tinubu's remark is reckless!

— Great Oracle (@AbdulMahmud01) July 14, 2019
What's Tinubu saying?
So security is useless since we'll are destined to die.
What a time to be alive! pic.twitter.com/K36mVEVB49

— Oko Emmanuel (@Ukie_Emma) July 15, 2019
Is Evans not herdsmen ask Tinubu if am wrong Baba oponu https://t.co/fSUqVJZV1d

— sikirudoctor@gmail.com (@sikirudoctor) July 15, 2019
WATCH with your own eyes as Bola @AsiwajuTinubu says we should convert the TRAGEDY of the killing of Pa Fasoranti's daughter into PROSPERITY!

Is Tinubu for real? Was he under the control of a dark and sinister force or is this what sycophancy does to a man?#FASORANTISDAUGHTER pic.twitter.com/lRLHXqjorN

— Reno Omokri (@renoomokri) July 14, 2019
Tinubu visited Pa Fasoranti yesterday over the gruesome murder of her daughter and here is what he had to say.

"We all know where kidnapping started in this country and who started it"- Bola Ahmed Tinubu, 15th July 2019.

I am just speechless and weak. pic.twitter.com/yqGjvLxxJZ

— #BBNaija (@onos_147) July 15, 2019
My Question is, what does Tinubu actually do for the common man apart from giving them more "leaders" that will rip them off just to serve him?

— No one (@ilynem) July 15, 2019
It is meant to be a condolence letter but instead, you use the opportunity to share the fact that the person who died was indebted to you. You even used the opportunity to let the world know "you gave her the opportunity to live again".

Thank you god Tinubu

Classless Scum

— Babasola Kuti (@RealSolaKuti) July 14, 2019
Tinubu's Comment was arrogant and insensitive. I disown this greedy bastard called Bola Tinubu. He lacks wisdom.

— Black J🌚 (@OfficialblackJ) July 15, 2019
Tinubu is simply outsourcing the responsibility of government to destiny. It's only an irresponsible and incompetent government that will attribute the death of her citizen to destiny. If that be the case, let's disband all our security agencies and let destiny decide our fate.

— Sapiosexual™ #BBNaija (@_Mazimum) July 15, 2019
Download Naija News App. Advertise with us. Send us enquiries and press releases.