Christian Chukwu Arrives Nigeria After Medical Treatment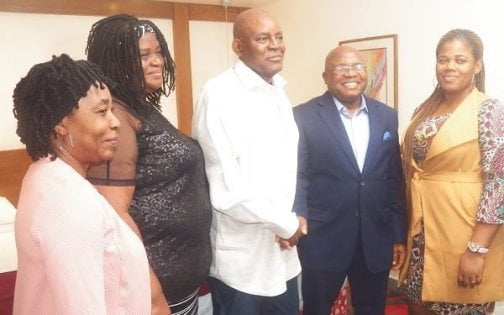 Former captain of the Green Eagles (now Super Eagles), Christian Chukwu has returned to Nigeria after undergoing medical treatment.
Naija News recalls that Chukwu had been in London where had gone for medical treatment for stomach upset and waist pain.
Recall that Naija News had footed the bill for his treatment in London.
Cukwu who was on a wheelchair when he was flown to London but was sighted standing upright in his return to Nigeria.
In a footage obtained by Naija News, Chukwu was sighted in the company of his wife, Lilian; Sister, Mrs. Edith Motaya; representative of Mr Femi Otedola, COO ZENON Oil, Mr Philip Akinnola and daughter of Chukwu's daughter Adaora Ndibe.
The picture was taken after Chukwu arrived Lagos after his medical trip.
Source: Naija News