What I Will Do To Cabinet Members Who Gossip About Me – Gov. Umahi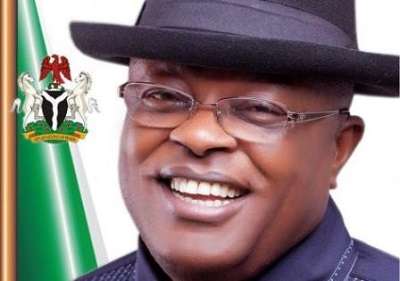 Ebonyi State governor, Chief David Umahi, has today threatened to sack any member of his cabinet found gossiping about him and his government.
Umahi made this threat while swearing in the head of the service and senior special assistants to government.
The event took place at the exco- chambers government house Abakaliki, Ebonyi State capital city.
He further expressed his shock at the rate Ebonyi people gunned for political appointments, saying that the people of the state should think of something else other than politics.
He said, "What is trending in Ebonyi state is that I want to be SSA and SA. Imagine the cabinet we have, everybody wants to be SA. If I am making more SAs, it must not be up to ten percent of the SAs I have appointed. It is my opinion that we fine something else doing.
"My commissioner will come last. I want to let them know that this job can be done without anybody. My former commissioners started a very bad trend for the state and for me. Every day, it was discussing the governor, going from one office to the other. They were going about saying that they were not being given anything and not being taken care of. If I get anybody to complain again, I will get rid of that person.
"So, anybody we will appoint now, we will tell the person, this is not come chop, it is come work. So, from day one, if you do not want to sacrifice to work for the people, you better go and look for another opportunity. if I get anybody complaining there is no money, I will get rid of the person. This is no longer going to be a gossip workshop. People are called to work.
"This is not the era of coming with files. You have to create wealth. Let's look beyond the money we get. If you think this is a safe haven, I have withdrawn the overhead from ministries, STAs and TAs. There are so much loose funds with all the financial institutions. Let's look beyond the money we get for paying salaries. When you attract funds from outside, you start making your overheads", he said.
Umahi, who, however, said that not everybody who was part of his former cabinet would be returned, assured that those that would not make it would be given opportunities to make money, even as he threatened anyone suspected to be a cultist.
"For those in my exco before, definitely not everybody will come back. For those who cannot come back, we will create opportunities, that they will even make more money than those that will be in exco. I was told we have over ten thousand applications for commissioners, SAs, SSAs.
"It is threatening, it doesn't give me joy at all. Any of my appointees that has been cleared by the quarters concerned, if you are found identifying with cultism, we will sack the person, and the next available flight will take you to the national security adviser", he vowed.
Download NAIJA NEWS app: