Nigerians React As Senator Abbo tackles Remi Tinubu Over Suspension Treat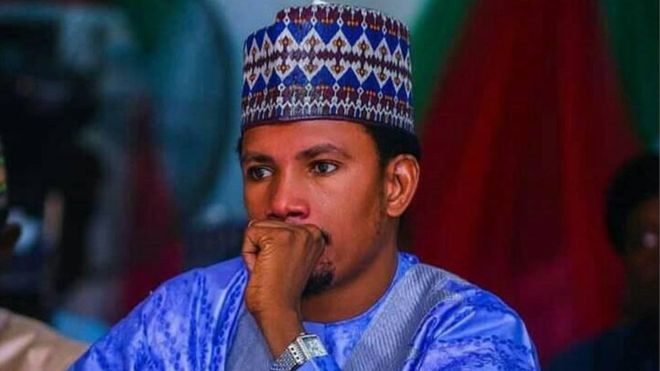 Senator Elisha Abbo, representing Adamawa north, was angry at the first hearing with the Senate ad hoc committee set up to probe him.
Abbo, currently is facing criticism over a video in which he was seen assaulting a nursing mother went viral.
Although he has apologized for his action, the Senate committee hearing yesterday sparked a heated argument.
According to Abbo, he had turned down attempts by journalists to interview him on the matter and he would not understand why he came in for the hearing to be "ambushed" by journalists.
Meanwhile, the action the Adamawa born senator has led to several on Twitter. here are the tweets as follows
Senator Abbo is obviously a compulsively violent bully, but his infantilization by Remi Tinubu is intolerably insulting & unacceptable. Like Abbo, Remi was also 41 years old when she first became a senator in 2011. Did anyone denigrate her age in 2011? When did 41 become "young"?

— Farooq Kperogi, Ph.D (@farooqkperogi) July 10, 2019
So I watched the Remi Tinubu video and some thoughts:
– The patriarchy is a drug. Why did he kick off when Remi Tinubu was asking him questions?
– People saying she shouldn't have spoken to him like that are not friends of accountability
-This man has anger management issues

— Sigh! (@_Thalia_M) July 10, 2019
I've watched a longer video of the exchange between Remi Tinubu and Elisha Abbo. I get that Abbo is "underserving" of respect and has anger problem, but Senator Tinubu was unnecessarily condescending. At a point she sounded as though she's addressing a school kid, not colleague.

— Gimba Kakanda (@gimbakakanda) July 9, 2019
So Senator Remi Tinubu that assaulted Obanikoro right inside the Red Chamber is now probing another Senator for assault?

We too dey joke for this Nija sha.

— Lere Olayinka – Aresa 1 (@OlayinkaLere) July 9, 2019
A 40-something-year-old Senator battered a woman, and instead of addressing him as a rational adult, you're attributing his misdemeanor to his young age? Is this what you think of us? Aren't you the same people boxing and insulting each other during sessions, Senator Remi Tinubu?

— Gimba Kakanda (@gimbakakanda) July 9, 2019
Sen.Remi Tinubu shelled at Sen.Elisha Abbo,& he returned same in kind. The junior senator seems to be a fanatical fan of Isaac Newton's 3rd law of motion. Mama Tinubu now knows that he isnt trigger shy or a flatfooter.

— John Danfulani (@john_danfulani) July 9, 2019
I just saw the Remi Tinubu Video again, it appears we are ignoring the main point to drag her for threatening that boy in a man's skin.

Elisha Abbo is naturally aggressive towards women, if Remi was a male senior senator, he wouldn't dare raise his voice that way I'm sure.

— ? OTUNBA LAMBA ?️ (@Elhay16) July 10, 2019
How is Remi Tinubu trending and not that Abbo?

You are all going to go gaga at another woman today again?

The number of women you people are bullying on this street is scary mahn!

How is Remi Tinubu at fault?

She even addressed him with "Sir" and "With all due respect"!

— Adebiyi Adeniran (@mrbhiyi) July 10, 2019
Perruzi slapped pamilerin an influencer,no police arrested perruzi or panel set up.

A random citizen can slap the lady & nothing will happen.

Remi tinubu is now feeling like an S.P to her colleague just because they are not from the same party,PDP needs to protect Abbo now.

— QUDUS (@QdPaper) July 10, 2019
Last week senator Elisha Abbo beat up and humiliated a woman and all of you were outraged but today I'm seeing people defending the same man because Senator Remi Tinubu was scolding him for that same act.

You people are soo inconsistent, the bashing of Mrs. Tinubu is not right. pic.twitter.com/P3LnvOQ6It

— Ayatutu (@AyatutuKaSeTiv) July 10, 2019
Source: Naija News