7.1 Magnitude Earthquake Hits Southern California, USA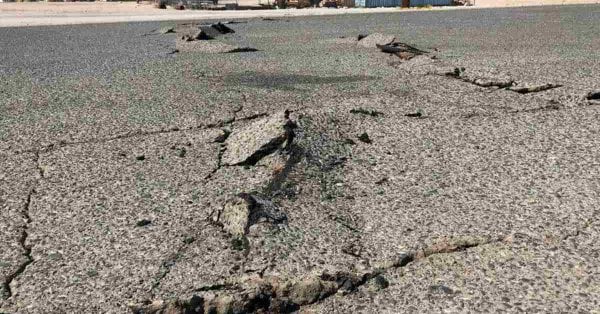 A magnitude 7.1 earthquake has struck Southern California, United States of America (USA).
Naija News understands that the magnitude 7.1 earthquake which struck on Friday night, is second major temblor in less than two days
According to Los Angeles Times, the quake was centered near Ridgecrest, the location of the July 4th 6.4 magnitude temblor.
The report says the earthquake was followed by an aftershock first reported as 5.5 in magnitude.
It was learned that residents of Trona and Ridgecrest, two Mojave towns shaken by both quakes, answered their phones frantically and in fear.
"They're saying the ground split," said Winter Wilson, who was driving home to Trina from Bakersfield, her voice shaking. "They made me promise not to come."
"I can't talk right now," Heather rush said as she rushed to get in touch with her sister.
The shaking was less intense in the Los Angeles metro area, and there were no immediate reports of major damage or injuries, Los Angeles Times reports.
It added that the 7.1 quake occurred on the same fault system as the 6.4 temblor that is now being considered a foreshock. It was further away from Los Angeles, though still in the Owens Valley.
"This happened at the end of the zone that moved previously," said retired USGS seismologist Lucy Jones.
"It has already been followed by several aftershocks, some 15 miles to the northwest", Jones said, noting that the fault is likely to be 25 to 30 miles long.
"The fault is growing," Jones said. "We ruptured a piece in the first earthquake [the 6.4 on Thursday], we ruptured a piece in the 5.4 [the aftershock yesterday], and we've ruptured more now."