Nigerians React As Six Students, Lecturer Of Madonna University Detained Regain Freedom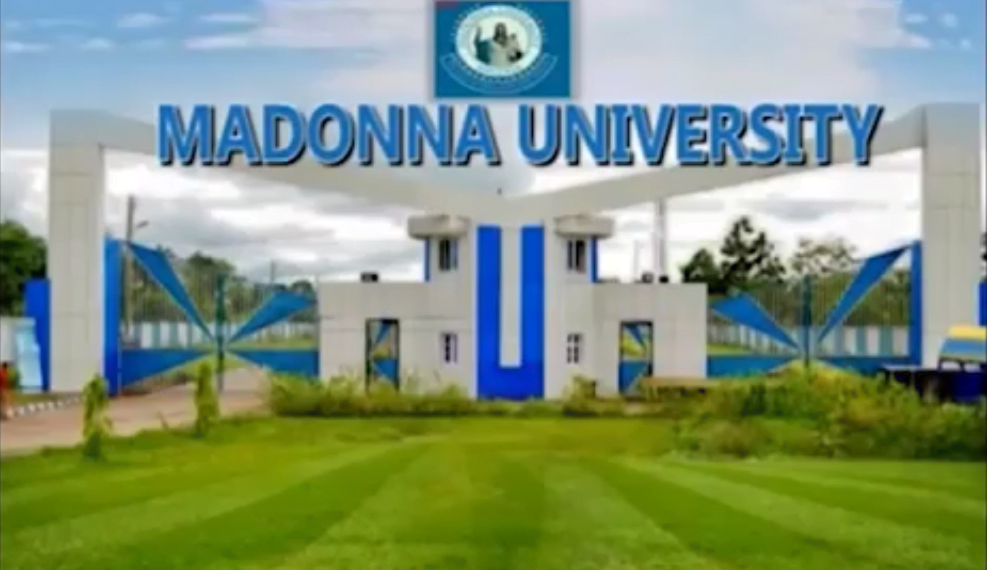 Naija News reported earlier that Six Madonna University students and lecturer who have been held in prison for the past 5 months over comments the institutions' management claimed was injurious to them have been released.
Meanwhile, Nigerians have taken to Twitter to air their views.
See reactions below:
People still attend Madonna University? https://t.co/pDBluyZpJM

— JJ. Omojuwa (@Omojuwa) July 4, 2019
How can you win all these awards in a University and even graduate as the best graduating student in 2017 and you will be send to jail for a Facebook post. This is not education! Madonna University is a dungeon.#FreeMadonna7Now#FreeMadonna7Now pic.twitter.com/y0w87POhZO

— Towolawi Jamiu (@jharmo) July 4, 2019
I will keep retweeting that Madonna University injustice each time it pops on my timeline. They don't have to pay for the negative publicity it's pro bono from here

— NIYI (@Niyih) July 4, 2019
UPDATE: I have spoken to family members of Chijoke & members of NANS in the state & all I can say is that this country is fundamentally a jungle where the strong continuously oppress the weak. Madonna University used @PoliceNG to imprison 6 students + 1 lecturer over SM criticism https://t.co/vos7HDv8ki

— Comrade Deji Adeyanju (@adeyanjudeji) July 4, 2019
Because of a Facebook post six students and a lecturer of Madonna University Nigeria have been in prison since February. Expressing an opinion is not a crime. #Madonna7

— Amnesty Int. Nigeria (@AmnestyNigeria) July 3, 2019
Glad to know that Nigerians are beginning to use social media to fight the right battles… 4 in 1 week is an impressive number!
COZA
RUGA
Senator Elisha Abbo
Madonna University#FreeMadonna7Now

— Kolade Akeni (@koladeakeni) July 4, 2019
Biodun Fatoyinbo – Stepped Down

Senator Abbo- Under investigation

Buhari Ruga- Suspended

We are making progress!

I'm glad we've moved to Fr. Edeh of Madonna University, Chijioke Nnamani and others…..#FreeMadonna7Now#FreeMadonna7Now

— ITAYEN (@DemGoTyre) July 4, 2019
Let it sink people Madonna university is owned by a church, an institution that is suppose to help people and grow faith. They lied against the #FreeMadonna7Now, and kept them in jail . I have always said this, religion is evil in Africa.

— King Babátúndé Scott (@babatundescott) July 4, 2019
My People, I was in Madonna university for just 1 sesemter and I ran o. The management and the way they treat student and staff is terrible. Father Ede and one father Felix- terrible and wicked people and they say they are fathers of the Catholic Church. SMH 🤦‍♀️

— Etim Onuk (@the_black_son) July 4, 2019
Now we are talking about Madonna university and her activities, why is NANS not offering a voice? Oh I forgot, these are not politicians who are ready to shareoney to canvass for votes. This impunity has to come to an end

— Baby Boy🇨🇦🇨🇦💊💊 (@d_otiede) July 4, 2019
You provide students with half baked knowledge and expect them to shut up and swallow it. no right to suggestions and opinions #FreeMadonna7Now Madonna university vs Fr Edeh .#ElishaAbbo

— Socialactivist (@SocialActionNGR) July 4, 2019
This is a false headline. As I write they are still in prison, we won't celebrate until they all walked out of that prison unchained and all charges against them dropped.#FreeMadonna7Now
Madonna University https://t.co/qqgvf4Shlr

— Towolawi Jamiu (@jharmo) July 4, 2019
Read More News. Download Naija News App. Send us enquiries and press releases.