What AGF's Office Said After Repeated Inquiries On Abacha's Loot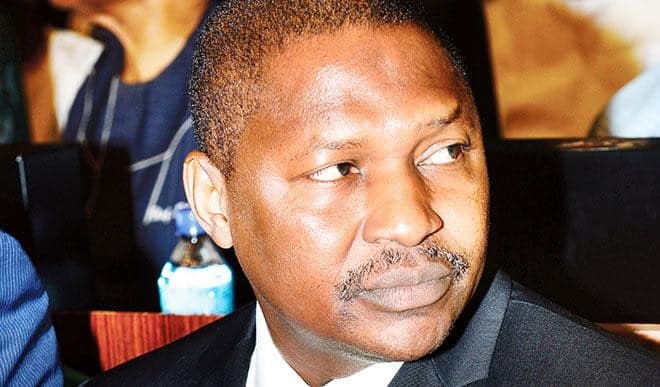 The office of the attorney-general of the Federation (AGF) and ministry of justice has continued to keep silent on payment of lawyers hired for the recovery of Abacha Loot.
Abubakar Malami, former AGF, had engaged Oladipo Okpeseyi and Temitope Adebayo, two Nigerian lawyers, for the recovery of $321 million Abacha Loot from Switzerland.
But Enrico Monfrini, a Swiss lawyer who had been on the recovery job since 2000, had told TheCable in a series of interviews that hiring of the new lawyers was needless as he had already completed the job.
Naija News understands that The Cable Foundation's freedom of information (FoI) had repeatedly requested details around the recovery.
A coalition of civil society organizations led by Say No Campaign has also written FoI request, asking for records of payment for the lawyers.
In its response dated June 14, 2019, and signed by Hamza Omolara on behalf of the solicitor-general of the federation, the ministry said it won't provide the information so it does not interfere with pending litigation.
Following lawsuit against the AGF  by Cable Foundation, in 2018, over non-compliance with the provisions of the FoI act, the court, on Tuesday, eventually set September 23 to deliver judgment. This was after adjournments.
"The requested records and information is subject of pending legal action before the Federal High Court, Abuja and the disclosure of which may likely interfere with the pending litigation," the letter read.
"Consequently, your application is hereby refused, in line with the provisions of Section 12 of the FoI Act, 2011 which mandates public institutions to deny applications for records and information that would interfere with pending law proceedings."
The FoI act, enacted 2011, allows the right of any person to access or request information, whether or not contained in any written form, which is in the custody or possession of any public official, agency or institution.
Sections 4 and 5 of the act provide that a public official or institution should grant access to a request for records or information within a time limit of seven days.
The institution is given three days within which it should transfer the request to another institution if it finds that it is in possession of the information under request.
It was learned that the probe of the lawyers' fee has been frustrated by the former AGF. Malami refused to provide the documents requested by the house of representatives ad-hoc committee set up to investigate the matter.
Despite the outcry, the federal government, in May, secretly paid the lawyers $15 million.
Source: Naija News