Imo State: Okorocha, Wife, Took Away 67 Government Vehicles, Other Items – Task Force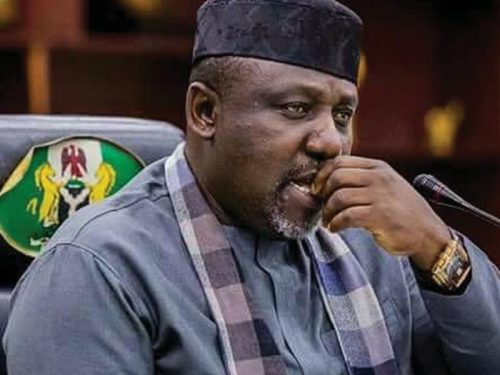 Okorocha, Ihedioha Trade Words On Imo State Property
The immediate past Governor of Imo State, Rochas Okorocha has been accused of carting away government property upon the expiration of his tenure.
Chairman of the Imo State Task Force on Recovery of Government Assets, Mr. Jasper Ndubuaku, made the allegation, adding that Okorocha's wife, members of his family as well as his aides also looted government property.
In his submission, Ndubuaku said Okorocha and members of his family carted away 67 vehicles belonging to the state, Okorocha's ADC took away five vehicles while his driver went home with one Prado Jeep.
Speaking with newsmen, yesterday, the chairman listed items carted away from the government house, ministries and parastatals to include generating sets, chairs, television sets, kitchen utensils, beddings and cutleries all valued at over N50 billion.
Furthermore, Ndubuaku alleged the 27 local government chairmen, all the 30 commissioners and special advisers under the previous administration went away with government property.
He added that Okorocha went home with all functional vehicles in the government house including bullet proof cars, back-up cars and outriders' motorcycles, while his wife went home with one bullet proof vehicle.
Ndubuaku said, "The looting spree was unprecedented. It was as if government never existed as all paraphernalia of government were carted away. Even the 150 transformers bought by Okorocha for electioneering stunt all disappeared in thin air.
Some of them told us that the cars were accidented somewhere in Abuja and Jos and we have told them to take us there."
He warned that all the alleged looters should return the government property in their possession or risk the task force swooping on them.
However, Senator Okorocha, reacting in a statement signed by his Special Adviser on Media, Sam Onwuemeodo, denied all the allegations, saying the Governor Emeka Ihedioha administration was only seeking diversionary tactics to cover its inadequacies and inability to deliver since he took over the administration of the state.
The statement said, "They have remained riotous in their approach on every issue. They have not begun to run a government because they came to power through the back door. They are only busy blackmailing the former governor. We have challenged them to publish whatever they are looking for so that we can respond as responsible people. All the key appointees of the staggering government are all saying different things on one issue. The government can't fly."
Source: Naija News