Trump Promises To Keep America Great As He Launches 2020 Bid In Florida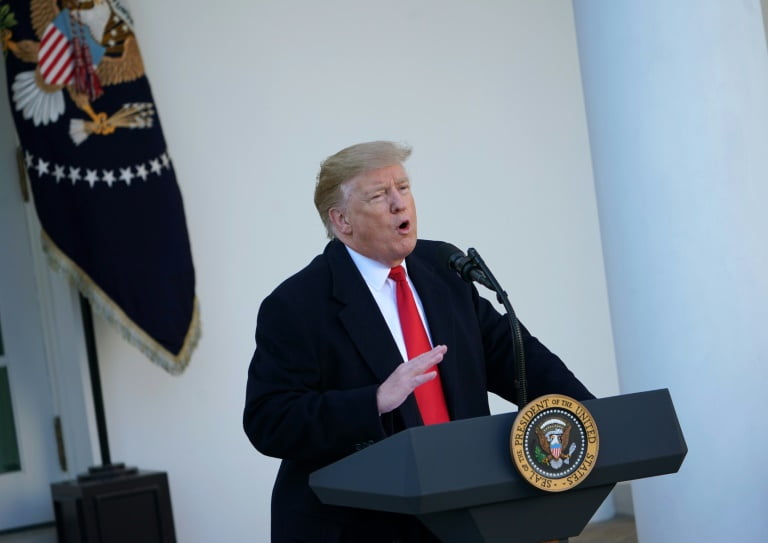 Donald Trump has finally announced his intention to run for the second term as the president of the United States of America at the Amway Center in Orlando, Florida.
Naija News recalls that the former American businessman had earlier given a hint about his intention prior to his formal announcement yesterday night Amid chants of USA and a sea of red hats and shirts. Speaking to a capacity crowd at the 18,500-seat arena Trump declared: "The American dream is back."
Exactly four years ago this week I announced my campaign for President of the United States … it turned out to be a great political movement because of you," Trump said to the crowd, many of whom waved signs provided by the campaign that read "Four More Years."
Trump largely stuck to listing the campaign pledges that ushered him to victory in 2016, with little mention of new agenda items for a second term. He vowed to "eradicate" AIDS and pull back troops from the Middle East, even as his administration announced plans to deploy 1,000 additional troops to the region amid rising tensions with Iran.
"I can promise you that I will never ever let you down. I won't," Trump said, later suggesting his campaign adopt "Keep America Great!" as its 2020 slogan.
While the rally was billed as the campaign's kickoff, Trump officially launched his re-election bid on his first day in office, filing his paperwork with the Federal Election Commission on Jan. 20, 2017. Since taking office, he has headlined dozens of "Make America Great Again" rallies in key swing states and has had a two-year fundraising head start over the growing field of Democratic presidential hopefuls.
Trump's choice to formally launch his re-election campaign in Florida, the nation's largest swing state, comes as a series of recent polls show him trailing behind some of the top-tier Democratic contenders including former Vice President Joe Biden and Sen. Bernie Sanders (I-Vt.).
Trump, who narrowly won the state and its 29 electoral votes in 2016 with a 1.2-point margin of victory, currently trails Biden by 9 points in Florida, according to a Quinnipiac Poll released on Tuesday. Trump trails Sanders by 6 percentage points, according to the poll that surveyed 1,200 registered Florida voters. The poll, conducted June 12-17, has a margin of error of 3.3 points.
"They weren't right in 2016," Lara Trump told rallygoers, referring to the polls at the time that showed Clinton leading Trump. Clinton won the popular vote by nearly 3 million votes but was bested by Trump in the Electoral College votes.
Almost an hour into his speech, Trump himself took a dig at Biden, calling him "Sleepy Joe" and knocked Sanders, briefly calling him "crazy."
Source: Naija News