Reactions As Paul Adefarasin's Wife Lashes At Ladies Who Dress Indecently To Church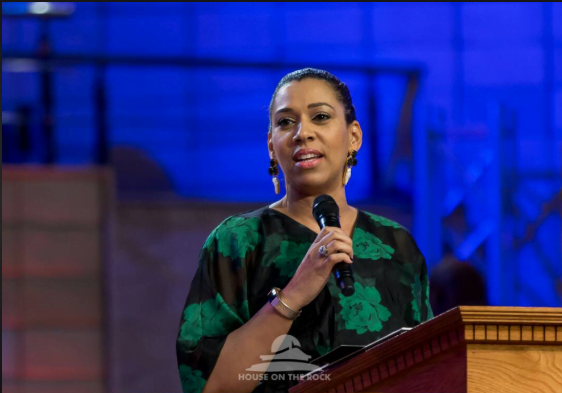 Pastor Ifeanyi Adefarasin, wife of the senior pastor and founder of House on the Rock church, Pastor Paul Adefarasin has set social media reeling with mixed comments after a recent sermon which lashed out on ladies who dress indecently to church.
In a video which went viral on Twitter, the beautiful mother of three said, ladies, parading themselves, scantily dressed in the church will become a fling in the hands of men
Her words: If you dress somehow and walk up and down, if there is a guy here that you can tempt, the guy will have a fling with you as the toy that you are and fling you when he is done.
Everybody likes wife material but you need to still be his chic even though you are his wife. You don't want somebody that by the time you are walking you are trying to figure out 'Well if this is how she is advertising how many of us are logging on to her website?'"
While she got commended for preaching the 'truth' some scolded her for being too harsh.
It is expected that Daddy Freeze who dares to criticize Nigerian preachers will react to this.
See tweet reactions to the preacher's words below:
This so called Pastor Ifeanyi said the truth in a stupid holier than thou way. How can she b proud she did d same husband waka up&down thing&still mock d younger ones doing it without admitting she was wrong for doing it in d past. She can only run her mouth like purging when she

— Sebastian Isaac (@BoldSignal) June 13, 2019
…mentions it not to mock in an holier than thou way but to correct in a more humble we are all sinners way. Is it for the attention or she is angry her man got turned on sometimes? By their preaching we shall know them. So preach unbaise Pastor Ifeanyi…cuz u did same.

— Sebastian Isaac (@BoldSignal) June 13, 2019
Pastor Ifeanyi's words were a bit too harsh. Words like the ones she used in this video are capable of killing the spirit of any unmarried young girl who's just trying to help in the church, because she loves God. She needs to step down the tongue lashing a little bit. pic.twitter.com/li1QuXp5Q4

— Crisscross Africa (@crisscrosafrica) June 13, 2019
See Reactions commending pastor Ifeanyi's Preaching
Powerful message from a female preacher Pastor Ifeanyi… Single ladies should watch this? pic.twitter.com/ujIu6h9aTV

— ?AondoKator???? (@katordaniels) June 13, 2019
Muslim ladies trying to understand why "Christian" ladies are complaining about pastor ifeanyi's message on covering your body.
Is it not in your bible?!! pic.twitter.com/QvAWHjMrxP

— Baridueh Badon (@BadonB) June 13, 2019
What pastor Ifeanyi simply said is dress the way you want to be addressed and in the house if God, be guided in what you wear.

— R. A™️ (@beingreggy) June 13, 2019
I am actually surprised and excited that this message is coming from Pastor Ifeanyi of HOTR. When table she is shattering "was" the USP of HOTR in "those days" ???. Let me go and look for the CD or DVD of the full message ??‍♂️??‍♂️ https://t.co/qQrwj7xw6S

— Wole Oluyemi (@WoleOluyemiCo) June 14, 2019
Source: Naija News