Nigerians React As Aisha Buhai Demands 'First Lady' Title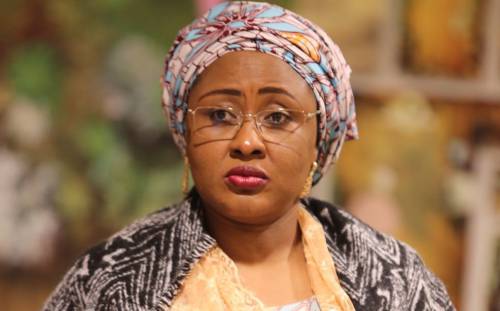 A storm of mixed reactions by Nigerians has greeted a demand by  President Muhammadu Buhari's wife, Aisha, saying Nigerians should address her as 'First Lady' in the President's "Next Level" administration.
Naija News reports that Mrs. Buhai announced her decision to be addressed as the "First Lady" of the Federal Republic of Nigeria, on Thursday night, June 13, at an event held at the old Banquet Hall of the Presidential Villa, Abuja, Nigeria's capital.
This online news platform recalls that Mrs. Buhari was addressed as 'Wife of the President' throughout the first four years tenure of her husband.
Mrs. Buhai, who revealed her new official title at the presentation of awards to immediate past governors' wives and current governors' wives of the 36 states of the Federation, said the decision became imperative in order to stop the confusion which enveloped her former "wife of the President" title.
She noted that the new designation would take immediate effect in order to resolve the issue of the title of wives of governors.
Her words: "When my husband was newly elected, I personally chose to be called the Wife of the President.
"But, I realised that it causes confusion from the state as to whether the wives of state governors are to be addressed as the first ladies or wives of the governors.
"So, forgive me for confusing you from the beginning, but now I chose to be called the First Lady," Mrs. Buhari added.
Moments after the news broke, Nigerians took to the micro-blogging site, Twitter, to react to the demand of Mrs. Buhari.
Naija News captured some of the reactions below…
2015: There will not be office of the first lady!!!!????

2019: No more 'wife of the president', I'm now First Lady – Aisha Buhari.????

Pretence is what I hate so much about these people!

They lie effortlessly with integrity!

Buhari was never poor!

— Bolanle Cole. Esq ?? (@BolanleCole) June 14, 2019
Dear @AishaMBuhari,

But your husband, General @MBuhari, promised during his campaigns that he would scrap the office of the First Lady. Anyway, he also promised to make ₦1 equal to $1.

Anyway, enjoy your new position #FreeLeahSharibu #RenosDarts https://t.co/JuB935yDrt

— Reno Omokri (@renoomokri) June 14, 2019
Wailers will hail Aisha for demanding to be First Lady & attack PMB for 'reneging' on his promise not to operate the office?

— Ayekooto (@DeeOneAyekooto) June 14, 2019
Leaked footage of Aisha Buhari confronting a young Nigerian that called her "Wife of the President" instead of "First Lady" pic.twitter.com/56LoeLpAFh

— .♛. (@theCyberNewt) June 14, 2019
Nigerians can hu hear me ??
You can address me as the First Lady now, not the President's Wife… Taink hu!!! pic.twitter.com/Gp5zDVadrl

— ? Tejumola Olayiwola© ÒYÓMÉSÌ ???? (@iamtejumorlah) June 14, 2019
Issues facing Nigeria:Terrorism, insecurity, bad economy, loomin recession, unprecedented poverty, injustice, fraudsters, poor education, bad government policies e.t.c.

Aisha Buhari (a.k.a. First Lady): pic.twitter.com/haqbjCqtmX

— Bearly ? (@grizzly_bean) June 14, 2019
What is the difference between "Wife of the President and First Lady" pic.twitter.com/lQqrBOxQx7

— LadAttorney?? (@LAWREGO) June 14, 2019
Aisha Buhari Now To Be Addressed As First Lady As She Drops 'Wife Of President'…

The Solo Cabal. https://t.co/uWszN3oyH2

— Adetutu Balogun (@Tutsy22) June 13, 2019
Source: Naija News