Why 'Igbo Presidency' Doesn't Exist – Okorocha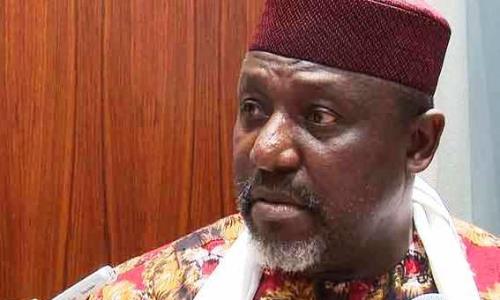 Senator Rochas Okorocha (APC-Imo West) on Thursday said people of the South-east cannot make themselves president.
Speaking to newsmen after he was sworn into the Senate, the former Imo governor said Igbo presidency doesn't exist.
The lawmaker stated that the south-east region has to work hard to earn the presidency.
"Power is not given, power is taken. The south-east cannot just fold their arms and expect power to be given to them just because you want power.
"Power does not go with sentiment some of the times, it's on issues on ground," Okorocha said.
"So you cannot be talking about Igbo presidency, it doesn't exist. We may be talking about Nigeria's president of Igbo extraction but that depends on what other geopolitical zones think about the issue.
"For me, what is important is let power be given to somebody who has something upstairs who can put food on the table of common man irrespective of religion or where you come from."
INEC
Senator Rochas Okorocha also denied forcing the Independent National Electoral Commission (INEC)'s Resident Electoral Commissioner to declarer him the winner of the election.
"Duress means using mild or excessive force to compel someone to do something he or she does not want to do," he said.
"How would you have done that in a returning hall where you have police, SSS and party agents? And in my own person walking with gun or machete asking them to write result on my behalf.
"That didn't happen. I think there is more to duress than duress itself."
Download NAIJA NEWS app: