Full List Of Appeal Court Judges And Their Retirement Dates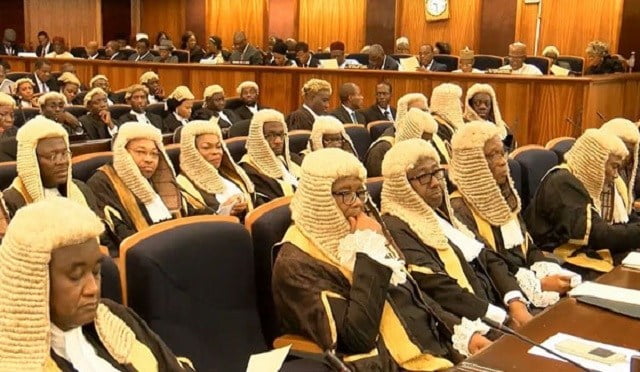 Naija News has obtained a complete list of judges currently in the Court of Appeal in Nigeria.
This online news platform understands that the Court of Appeal currently maintains about 9 divisions in different major cities of Nigeria spread across different parts of the Country including Lagos, Benin, Enugu, Kaduna, Ibadan, Port Harcourt, Ilorin, Abuja, and Calabar.
Under the Constitution of Nigeria, the Court of Appeal is established as an intermediate or appellate tribunal between the Supreme Court of Nigeria and other tribunals.
The head of the Court of Appeal is called the President and it is a position deemed to be equal to the status of a Justice of the Nigeria Supreme Court.
Justice Zainab Bulkachuwa is the current President of the Court of Appeal in Nigeria.
Naija News understands that the number of Judges on the Court of Appeal may vary at any given time, depending on the minimum set by the enabling law. However, the Court is obligated to ensure that in any event, at least three out of its members at any given time are learned in Islamic personal law; as well as an additional three Judges are learned in Customary law.
The minimum requirements for an individual to be eligible for appointment as a Justice of the Court of Appeal include qualification to practice as a legal practitioner in Nigeria for at least 12 years.
An Appeal Court judge in Nigeria is appointed to the position through a multiple-step process that involves the Executive arm of government through the President of Nigeria, the National Assembly, and the National Judicial Commission, (the regulatory body of Nigeria's judicial system headed by the Chief Justice of the Supreme Court of Nigeria).
This online news platform understands that the National Judicial Commission makes recommendations of suitably qualified persons to the President who then forwards one of the recommended names to the Senate of the Federal Republic for approval.
Below is a list of judges currently in the Court of Appeal…
S/N
Name
State
Date of Birth
Bar Enrolment
Appointment

Date

 Retirement

Date

Former Post
Court of Appeal Division
1
Hon. Justice Z.A. Bulkachuwa

(President)

Gombe
6/3/50
15/7/76
9/12/98
6/3/2020
Judge, High Court of Bauchi State; Chief Judge, Gombe State High Court
2
Justice  D. Adamu
Niger
12/7/51
1/7/79
6/9/93
12/7/2021
Judge, High Court of Justice, Niger State
3
Hon. Justice K.B. Akaahs
Kaduna
12/12/49
28/6/75
10/12/98
12/12/2019
Judge, High Court  of Kaduna State
4
Hon. Justice M.D. Muhammad
Niger
27/10/53
2/7/77
0/12/98
27/10/2023
Judge, High Court of  Niger State
5
Hon. Justice A. Sanusi
Kastina
2/2/50
July, 1978
10/12/98
2/2/2020
Judge, High Court of Kastina State
6
Hon. Justice A.A. Augie
Kebbi
3/9/53
1978
17/10/02
3/9/2023
Judge, High Court of Sokoto State
7
Hon. Justice A.J. Abdulkadir
Kebbi
23/7/56
7/6/81
17/10/02
23/7/2026
Judge, Federal High Court
8
Hon. Justice M.B. Dongban-Mensem
Plateau
3/6/57
22/6/80
25/6/03
13/6/2027
Judge, High Court of  FCT, Abuja
9
Hon. Justice M.L Garba
Zamfara
16/11/58
2/7/80
22/9/04
16/11/2028
Chief Judge, High Court of Zamfara State
10
Hon. Justice Tijjani Abdullahi
Jigawa
31/12/51
2/7/77
22/9/04
31/12/2022
Judge, High court of Jigawa State
11
Hon. Justice M. Abba Aji
Yobe
7/11/56
26/6/81
22/9/04
7/11/2026
Judge, High Court of Justice, Yobe State
12
Hon. Justice K.M.O. Kekere-Ekun
Lagos
7/5/58
10/7/81
22/9/04
7/5/2028
Judge, High Court of Lagos State
13
Hon. Justice M.L. Tsamiya
Sokoto
31/12/49
1979
25/4/05
31/12/2019
Judge, High Court of Sokoto State
14
Hon. Justice R. Chikwe Agbo
Enugu
21/10/53
8/7/78
25/4/05
21/10/2023
Judge, High Court of Enugu State
15
Hon. Justice P.A. Galinje
Taraba
21/4/50
22/11/05
20/4/2020
Judge, High Court of Taraba State
16
Hon. Justice Jimi Olukayode Bada
Osun
10/5/55
22/11/82
22/11/05
10/5/2025
Judge, High Court of Oyo State
17
Hon. Justice O. Ariwoola
Oyo
22/8/54
1981
22/11/05
22/8/2024
Judge, High Court of Oyo State
18
Hon. Justice H.M. Ogunwumiju
Ondo
23/3/57
7/7/78
22/11/05
23/3/2027
Judge, High Court of Onodo State
19
Hon. Justice O.F. Omoleye
Ekiti
6/10/56
July, 78
8/6/06
6/10/2026
Chief Judge, High court of Ekiti State
20
Hon. Justice A. Gana Mshelia
Borno
18/12/51
2/7/76
8/6/06
18/12/2021
Judge, High Court of Borno State
21
Hon. Justice Abdu Aboki
Kano
5/8/52
21/7/77
8/6/06
5/8/2022
Judge, High Court of Kano State
22
Hon. Justice Ahmed O. Belgore
Kwara
18/4/53
17/7/79
8/6/06
18/4/2023
Judge, High Court of Kwara State
23
Hon. Justice J.H. Sankey
Plateau
16/1/59
July, 80
8/6/06
16/1/2029
Judge, High Court of Justice Plateau State
24
Hon. Justice I.M.M. Saulawa
Kastina
29/9/56
2/7/82
8/6/06
29/9/2026
Judge, High Court of Kastina State
25
Hon. Justice Ali A.B. Gumel
Jigawa
5/4/57
July, 82
8/6/06
5/4/2027
Judge, Federal High Court Abuja
26
Hon. Justice Hussein Mukhatr
Bauchi
2/10/54
10/7/81
8/6/06
2/10/2024
Judge, High Court of FCT, Abuja
27
Hon. Justice Mojeed A. Owoade
Oyo
19/10/52
June, 75
8/6/06
19/10/2022
Judge, High Court of Justice Oyo State
28
Hon. Justice U.I. Ndukwe-Anyanwu
Anambra
28/12/53
17/7/79
8/6/06
28/12/2023
Judge, High Court of Abuja
29
Hon. Justice John I. Okoro
A/Ibom
11/7/59
21/8/85
8/6/06
11/7/2029
Judge, High Court of Akwa Ibom State
30
Hon. Justice C.N. Uwa
Abia
26/10/58
1983
18/7/06
26/10/2028
Judge, High Court of Abia State
31
Hon. Justice I.I. Agube
C/River
1/1/53
1983
18/7/06
1/1/2023
Judge, High Court of Cross Rivers State
32
Hon. Justice A.D. Yahaya
Kaduna
27/1/52
2/7/76
15/2/08
27/1/2022
Judge, High Court of Kaduna State
34
Hon. Justice S.D. Bage
Nasarawa
22/6/56
Nov. 81
15/2/08
22/6/2026
Judge, High Court of Nasarawa State
35
Hon. Justice M.A.R. Oredola
Kwara
6/2/49
8/7/78
15/2/08
6/2/2019
Kadi, Sharia Court of Appeal, Ilorin Kwara State
36
Hon. Justice C.C. Nweze
Enugu
25/9/58
1984
15/2/08
25/9/2028
Judge, High Court of Enugu State
37
Hon. Justice C.E. Nwosu-Iheme
Imo
2/2/59
5/11/82
15/2/08
2/2/2029
Judge, High Court of Imo State
38
Hon. Justice T.N. Orji-Abadua
Imo
15/10/59
16/11/84
15/2/08
15/10/2029
Judge, High Court of Imo State
39
Hon. Justice A.O. Lokulo-Sodipe
Ogun
18/2/56
17/7/79
15/2/08
18/2/2026
Acting Chief Judge, High Court of Ogun State
40
Hon. Justice M. Fasanmi
Ondo
4/4/51
28/6/75
15/2/08
4/4/2021
Judge, High Court of Justice Ondo State Acting Chief Judge, High Court of Ondo State
41
Hon. Juctice R.O. Nwodo
Anambra
1/11/58
/7/83
15/2/08
1/11/2028
Judge, High Court of Enugu StateJudge, Federal High Court
42
Hon. Justice Adamu Jauro
Gombe
26/6/59
10/7/81
15/2/08
26/6/2029
Judge, High Court of Gombe State
44
Hon. Justice Joseph S. Ikygh
Benue
17/3/58
16/7/2010
17/3/2028
Judge, High Court of Benue State
45
Hon. Justice Tom S. Yakubu
Kogi
12/6/53
18/7/80
16/7/2020
12/6/2023
Judge, High Court of Benue State
46
Hon. Justice Joseph Tin Tur
Benue
19/12/55
1980
16/7/2010
19/12/2025
Judge, High Court of Benue State
47
Hon. Justice Rita Nosakhare Pemu
Edo
06/03/53
1977
16/7/2010
6/3/2023
Judge, High Court of Delta State
48
Hon. Justice Chinwe E.E. Iyizoba
Anambra
19/01/50
1977
16/7/2010
19/1/2020
Judge, High Court of Anambra State
49
Hon. Justice Philomena Nbua Ekpe
Cross River
02/08/50
1975
16/7/2010
2/8/2020
Judge, High Court of Cross Rivers State
50
Hon. Justice Samuel chukwudumebi Oseji
Delta
02/06/54
1985
16/7/2010
2/6/2024
Judge, High Court of Delta State
51
Hon. Justice Mohammed Ambi-Usi Danjuma
Taraba
30/03/60
August 1984
16/7/2010
30/3/2030
Judge, High Court of Taraba State
52
Hon. Justice Haruna Moh'd Tsammani
Bauchi
23/11/59
1982
16/7/2010
23/11/2029
Judge, High Court of  Bauchi State
53
Hon. Justice Ita George Mbabai
Akwa Ibom
20/02/55
1985
16/7/2010
20/2/2025
Judge, High Court of Akwa Ibom State
54
Hon. Justice Isaiah Olufemi Akeju
Ekiti
21/10/55
1983
16/7/2010
21/10/2025
Judge, High Court of Ekiti State
55
Hon. Justice Tunde Oyebanji Awotoye
Osun
08/05/57
1981
16/7/2010
8/5/2027
Judge, High Court of  Osun State
56
Hon. Justice Moore Aseimo A. Adumein
Bayelsa
06/05/64
1984
16/7/2020
6/5/2034
Judge, High Court of Bayelsa State