Senate Presidency: 37 PDP Senators-Elect 'Endorse' APC's Lawan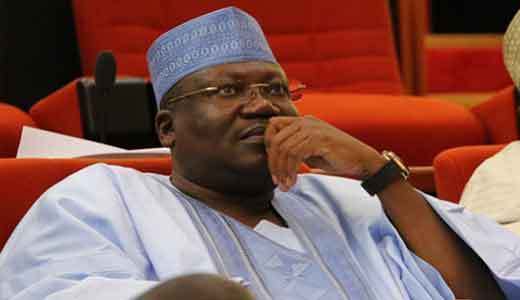 Thirty-seven Senators-elect on the platform of the Peoples Democratic Party (PDP), Nigeria's main opposition party, on Sunday, reportedly endorsed Ahmed Lawan for the position of the President of the 9th Nigerian Senate.
Naija News reports that Lawan, a senator representing Yobe North Constituency of Yobe State, is contesting against a fellow All Progressives Congress (APC) senator, Ali Ndume, representing Borno South at the Nigerian Senate.
While Lawan is backed by the leadership of the APC including President Muhammadu Buhari, Ndume on the other hand, has vowed not to step down for him just like Senator Danjuma Goje.
This online news platform understands that the 37 Senators-elect endorsed Lawan on Sunday at a meeting in Abuja, a day after 64 Senators-elect endorsed him as unopposed to contest as Senate President ahead of Tuesday's inauguration of the 9th National Assembly.
A report monitored on Leadership newspaper by Niaja News, says the meeting took place at the residence of the immediate past deputy Senate president, Senator Ike Ekweremadu in Abuja, Nigeria's capital.
The Newspaper listed Senators Dino Melaye, Theodore Orji, Eyinnaya Abaribe, Emmanuel Bwacha, James Manager and Philip Aduda, among the PDP lawmakers that attended the parley.
Senator Aliyu Sabi Abdullahi, the spokesman of the Senator Ahmed Lawan Campaign Organisation, told journalists that the endorsement of the former Senate leader was part of the desire of the PDP lawmakers to serve Nigerians.
The Lawan Campaign Organisation spokesman said the ninth Senate "is poised to deliver to the expectations of Nigerians, without taking them for granted."
Another lawmaker who was present at the meeting but pleaded anonymity said that the decision by PDP senators-elect to support Lawan stemmed from the "urgent need to bring stability to the National Assembly."
The lawmaker said a total of 99 Senators have agreed to vote for Lawan tomorrow as the Senate president of the 9th National Assembly.
According to the lawmaker, "So far, 37 PDP senators-elect have agreed to support Lawan. If you take that number in addition to the 62 from APC, that gives you 99. What that tells you is that he will emerge unopposed on June 11, 2019, which is the day of the inauguration of the 9th Assembly.
"The number is a clear message that the senators-elect believe in Lawan's ability and competence to handle the affairs of the incoming National Assembly.
"This time around, we believe this collective decision by APC, PDP and YPP senators-elect is an indicator that the welfare of Nigerians comes first. It also tells you that we are prepared to serve Nigerians differently this time around," the lawmaker added.
Source: Naija News