Governor Tambuwal Buries 25 Persons Killed In Fresh Attack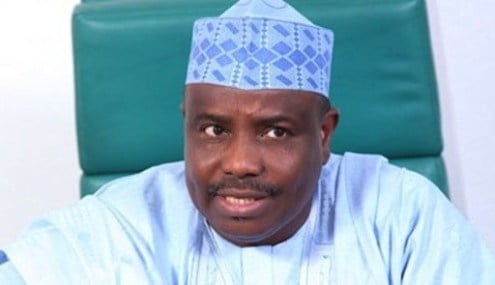 Governor of Sokoto state, Aminu Tambuwal on Sunday attended the funeral of 25 persons who were killed by bandits in a fresh attack.
Naija News understands that the bandits killed the victims in the day time of Saturday in three communities in the Rabah local government areas of the state.
Tambuwal attended the burial ceremony in the company of heads of security agencies, traditional rulers and government officials.
The Governor and his entourage condoled with the families of the victims after the burial held at Gandi town.
Recall that the bandits in their large numbers raided Kalhu, Tsage and Geeri villages near Gandi and killed the 25 persons in cold blood.
Upon their arrival to the attacked communities, the attackers were said to have engaged in indiscriminate shooting from around 5pm on Saturday till Sunday morning, after which they robbed victims of their valuables including hundreds of cows and sheep.
While expressing his condolence, Tambuwal pledged that the government would take more measures "to end such uncivilized and barbaric attacks."
Other places affected by armed bandits' attacks were; Dalijan, Rakkoni and Tabanni communities.