Nigerians React As UK Court Seizes Abacha's N81bn Loot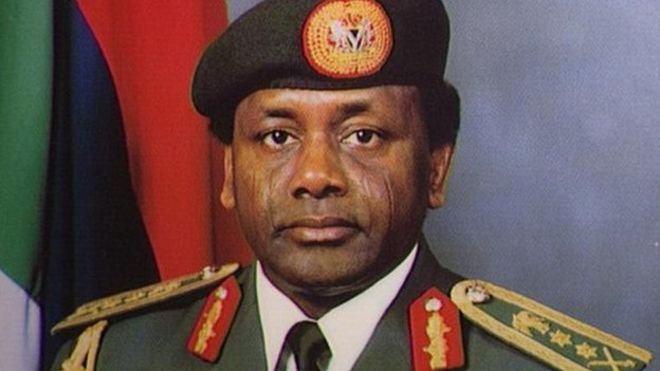 A storm of reactions by Nigerians has greeted the news that the sum of £211,000,000 (N81.9bn) laundered by former Nigerian dictator, General Sani Abacha, has been seized from a bank in Jersey, Channels Islands by a British court.
A report monitored on UK Metro by Naija News, says the money was put in accounts held in Jersey by Doraville Properties Corporation, a British Virgin Islands company.
The Newspaper noted that the government is holding on to the money until authorities in Jersey, the United States and Nigeria come to an agreement on how it should be distributed.
Abacha was a Nigerian army officer and de facto president between 1993 until his death in 1998.
Moments after the news broke, Nigerians took to the micro-blogging site, Twitter, to air their opinions on the loot.
Naija News captured some of the reactions below…
Abacha has been dropping alerts since 19teytey but @MBuhari says he didn't steal .

Tell me who's the fraudster again please? pic.twitter.com/j7saB2tF7U

— Nimrod (@GhenhisKhan) June 4, 2019
According to gap toothed fraud @MBuhari Abacha never stole…

But Abacha is still dropping alerts…??? pic.twitter.com/HSyFRMC66j

— Adetutu Balogun (@Tutsy22) June 4, 2019
This man may be dead but he keeps dropping alert from the land of the spirits. Give it up for Nigeria's greatest criminal…. General Sani Abacha ????? pic.twitter.com/fIJ2WNhVxe

— Land Investment Guru (@realHopeProsper) June 4, 2019
The last Abacha loot that was recovered has been re-looted by the integrity gang. So this one won't be an exception.

— Comrade Deji Adeyanju (@adeyanjudeji) June 4, 2019
Over 200m dollars which Abacha stole has been recovered

Government: pic.twitter.com/kxNbNyKzcW

— Holy wizard (@flex_khalifa) June 4, 2019
Throwback to when Abacha was ready to dissolve anything.
These days , he still solves our financial problems from the grave. A man that died in 1998 ooo!pic.twitter.com/m5UyTNggyH

— To Plan Is To Plot, To Plot Is To Conspire (@TweetAtAustin) June 4, 2019
This Abacha loot is longer than River Nile. Them just dey drop am for us like album.

— Wale Adetona (@iSlimfit) June 4, 2019
So, Gen. Abacha decides to send us another alert of £211,000,000. That's about N81,972,445,000… pic.twitter.com/0bakrSsOR0

— Ayodeji Aladejana ☪ (@AladejanaDeji) June 4, 2019
Forrrrrrr death could nottttt hold him captive
Even in the grave Abacha's loot money lives on
Even in the grave Abacha lives on??‍♀️??‍♀️ pic.twitter.com/kh0T2QiuK0

— Earliglow? (@OyinkanSalisu) June 4, 2019
Most Nigerians think of General Abacha as a corrupt man who looted public funds endlessly and they couldn't be more wrong.
My man was a benevolent philanthropist with the gift of visions and that's why Nigeria is steady cashing in on his post dated cheques.
A true visionary ??

— el magico (@Mr_Okewande) June 4, 2019
I heard Abacha sent us pocket money again. pic.twitter.com/thiYAOp7Uc

— suntalkeredo? (@suntalkeredo) June 4, 2019
Nigerian politicians looking at the Abacha loot and plotting how to reloot it.

A-Loot-a Continua. pic.twitter.com/UmviB0R3zD

— Joey Akan (@JoeyAkan) June 4, 2019
Acct: FGN*******
Amt: £211,000,000 CR
Desc: — Sani Abacha loot Transfer from Channel Islands
Avail Bal: Still Processing….

2 decades running and in death, Nigga still dropping Credit alerts ??? pic.twitter.com/LIZge5bOIU

— Mazi Nwosu (@_Nwosu_) June 4, 2019
Dear Gen. Sani Abacha,
I on behalf of other Nigerians want to appreciate you for helping us save all these monies, knowing Nigeria will one day need them.
23 years on, the loot is still flowing in like river Niger.
I don't know why Rochas didn't erect a statue in your honour. pic.twitter.com/Z1X45rnWu0

— Olusegun Atolagbe ?? (@segun_dearest) June 4, 2019
Nigerians: At least this newly discovered Abacha's loot can solve our power problem.

Government : pic.twitter.com/MvdtKbbdHp

— Ucgadaz (@Ucgadaz) June 4, 2019
No Cap..
Buh this Man was the greatest. Imagine your loot surviving you, 23 years and we're receiving alerts from the other side.. Ma nigga Abacha pic.twitter.com/KQvjO4zjTt

— Løki Odinson XIII (@joespasm) June 4, 2019
Abacha gets bored from time to time and decides to send Nigeria money from Hell !! Legend. https://t.co/qtJfbKP5GG

— Mr. Alabi of Lagos ?? (@the_Lawrenz) June 4, 2019
Dangote still dey find money, Nigerians still dey find Abacha money pic.twitter.com/nH4YBch0mm

— Double K ™ (@payybakk_ng) June 4, 2019
A true king!
Abacha is a legend
??? pic.twitter.com/e1LhTLF0WK

— FerrariSlimBwoy (@iamjuxticx) June 4, 2019
So I hear Abacha has made provisions for our 2019 budget?? ??? pic.twitter.com/FiKkyTUcH4

— Her Excellency? (@sindie2lexy) June 4, 2019
Do you remember this statement 'My family can never be as poor as Dangote'

£211m recovered from the Chanels Island that Abacha looted i.e equivalent of N82b

How did he achieve such feat when it was just 20naira and 10naira? pic.twitter.com/tC0yAJMK1t

— Young_scam (@me_thegoodman) June 4, 2019
I remember this story about Abacha's wife saying no matter how much money the FG seizes from them, they can never be as poor as Dangote… It appears that statement is true afterall…

— Akpan Billy (@sollo_n) June 4, 2019
Abacha's €211M loot discovered seized

No wonder his wife said she can never be as poor as Dangote ?????? pic.twitter.com/I0GA1CjxnJ

— Otunba ICE ? (@ManLikeIcey) June 4, 2019
Yet @MBuhari said "Abacha never stole". Are Abacha and Buhari the people Pastor Kumuyi said we shouldn't "attack". It's because we were not attacking Abacha that the bloodthirsty buffoon stole a lot and killed so many Nigerians #FreeLeahSharibu #RenosDarts https://t.co/jm07GaJ61q

— Reno Omokri (@renoomokri) June 4, 2019
Abacha is the most futuristic head of state we ever had in Nigeria… He steadily saved up for Nigeria's future.
Abacha = credit alert from hell pic.twitter.com/meSjoZiTHQ

— Ìfeoluwa (@Ogo_jeez) June 4, 2019
FG, you people can't say you can't give us 30k alawee o, our Man Crush has sent money to you to finance the budget…
Abacha is a legend

— RIQUEZA (@Iyun_Olami) June 4, 2019
General Sani Abacha is about to send another £211,000,000 from his loot to Nigeria. Money discovered in another foreign account. Yet, he remains a hero to millions of Nigerians.

— Dr. Dípò Awójídé (@OgbeniDipo) June 4, 2019
Abacha really the 3 eyed raven. Knew the economy was going to go shit and went ahead and kept money for us. ??

— BollyLomo (@ItsBollyLomo) June 4, 2019
Time has come for us to immortalize Abacha. He stole that we may live.

Like a visionary squirrel, he stashed away the loot in dark and faraway places where the sun won't shine on them. What a man!

211 million pounds sterling just popping up after 20 yrs? Genius. I say, genius.

— Prof Ikechi Mgbeoji (@MgbeojiIkechi) June 4, 2019
Jokes aside, this guy is a legend.anytime he's picture pops up on social media ,just know Nigeria is getting pocket money from hell #abacha pic.twitter.com/VPk1YF8tcl

— femi laniyan? (@laniyanfresh) June 4, 2019
Abacha really stole a lot and left enough for y'all daddies and mummies to continue stealing . Money de Nigeria boy

— Ayodeji (@AyoJaguda) June 4, 2019
Lmao Abacha is dead but still sending Nigeria credit alerts every year. What an icon

— ????????? ??? ???????❣️ (@aprilgains) June 4, 2019
You know what???? I'm beginning to think that whenever Abacha is bored in the afterlife, he always sends Nigeria some pocket money!!!!!
? pic.twitter.com/HVGedFiqHC

— HΞCTOR DΞ LA FUΞNTES ☬ (@hecxtreme) June 4, 2019
I'm tired of hearing all this ridiculous amounts Abacha stole. They will recover the money and still re-loot it again. Share this money for everyone let's know it's real. ? https://t.co/MaDshXJzjm

— Umeh and 99 others (@UMEHoma) June 4, 2019
General Sani Abacha. The immortal sugar daddy.

— Amara Nwankpa (@Nwankpa_A) June 4, 2019
Download Naija News App. Advertise with us. Send us enquiries and press releases.