Reactions Trail Anthony Joshua's Shock Defeat To Ruiz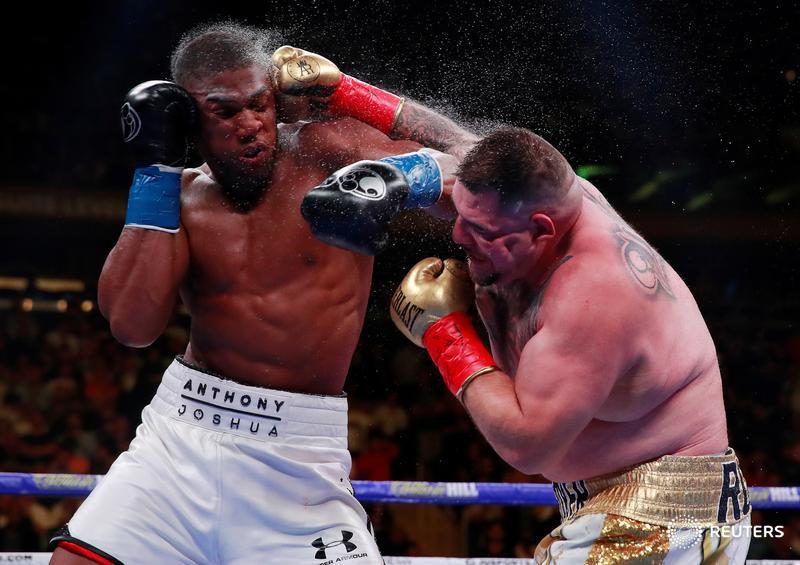 A storm of reactions by boxing fans has greeted Anthony Joshua's shock defeat to Mexican-American boxer, Andy Ruiz Jr.
Naija News had reported earlier that the British-Nigerian boxer suffered humiliating defeat on his United States debut after being knocked down four times by the Mexican-American boxer, to leave him out of the heavyweight championship.
Ruiz Jr. stopped Joshua in the seventh round of the fight on Saturday, June 1, at the Madison Square Garden, New York, USA, to become the first Mexican-American heavyweight world champion.
Joshua, a British title-holder, was defending his IBF, WBA and WBO World Heavyweight Titles in the fight against Ruiz, but the underdog knocked him down four times after which he (Ruiz) was awarded a technical knockout.
Moments after the match, boxing fans took to the micro-blogging site, Twitter, to air their opinions of the heavyweight fight.
Naija News captured some of the reactions below…
This is the worst thing you'll see on the internet today.

The scenes of Andy Ruiz beating Anthony Joshua like he stole something. pic.twitter.com/BkO7xfAo2M

— Oh' Kelvin (@kelvinekerete) June 2, 2019
OMG! OMG! I cannot believe this S$&@$! Anthony Joshua — holder of 3 belts, gets TKO'd by Butter Bean…….I mean some dude named Andy Ruiz JR. What a damn disgrace. Joshua looked completely gassed! More fatigued than hurt! Now how in the Hell did you let that happen? How?

— Stephen A Smith (@stephenasmith) June 2, 2019
Anthony Joshua: I'm going to break the drake curse

Ruiz: pic.twitter.com/DvYqK4i1m0

— Zeke™️ (@juniorgunz_) June 2, 2019
Just see the way Andy Ruiz beat our Anthony Joshua..??. I'm so hurt right now !! pic.twitter.com/fbkm0BqCHi

— Obaro™ (@0bar0) June 2, 2019
So after enlisting the service's of a US navy seal and copying Ronaldo's training routine just to go and loose to A Fat Mexican
Anthony Joshua is just a joke

NO WONDER HE PROFUSELY REFUSED TO FIGHT NEITHER FURY OR WILDER

men am so disappointed#AJRuiz #AnthonyJoshua #ruiz pic.twitter.com/MB7wAjkOkW

— Unkle Ruckus (el patron?) no relation (@KevinRoss222) June 2, 2019
Anthony Joshua fans right now after they hyped him to knockout Andy Ruiz in the first round #JOSHUAVSRUIZ pic.twitter.com/gdf9fn4dLp

— Lérd Chigbo ā (@itschigbo) June 2, 2019
Stans of Anthony Joshua watching Andy Ruiz knockout their champion pic.twitter.com/iJqv4kl9Ga

— Jèfé Juan José (@Jefe_says) June 2, 2019
Andy Ruiz Jr. leaving Madison Square Garden like… pic.twitter.com/r5TzR1aWmG

— since the 80's (@socalr8rnation) June 2, 2019
Who else noticed Anthony Joshua was tired at round 1?

Like Andy Ruiz didn't really hit him much. #AnthonyJoshua #AndyRuizJr pic.twitter.com/7TKl8qYX8T

— SEKONI. (@SekoniTweet) June 2, 2019
Who else noticed Anthony Joshua was tired at round 1?

Like Andy Ruiz didn't really hit him much. #AnthonyJoshua #AndyRuizJr pic.twitter.com/7TKl8qYX8T

— SEKONI. (@SekoniTweet) June 2, 2019
Anthony Joshua lost to Andy Ruiz omg ? pic.twitter.com/KGQ2cgbKqk

— S E U N™ The Last Garri Bender (@SeunGabrielO) June 2, 2019
I'm now convinced that Drake does Juju. He just ended Anthony Joshua's career.
Ruiz is the GOAT ? pic.twitter.com/8hvUscX1iy

— Ku Nasser ?? ?? (@IamHaxx) June 2, 2019
When you wake up and see that Anthony Joshua LOST to Andy Ruiz Jr whilst you were asleep… pic.twitter.com/N9JRpGKH8M

— Soccer AM (@SoccerAM) June 2, 2019
Snap with Drake and taste the feelings
Arsenal
Man united
Dortmund
Even Anthony Joshua, all can testify to it ??‍♂️??‍♂️??‍♂️ pic.twitter.com/mTr9rmtFZH

— Okanlawon (@ibrolawon) June 2, 2019
Anthony Joshua: "I'm going to win this fat boy in three rounds"

Andy Ruiz jr: pic.twitter.com/F6HXvOtj1r

— MO (@Alaminzy56) June 2, 2019
I told folks that watch real boxing that Anthony Joshua is overrated and look who beat you and sit your ass on the floor an unknown boxer!! Tonight my arguments is clearly justified!! Knockout!!! Yesssssss??❤️ pic.twitter.com/m81hki7Veg

— Prince.Ikekhua (@EhisOsara) June 2, 2019
Andy Ruiz really exposed Anthony Joshua damn. pic.twitter.com/JeBgKyN4vM

— Arnold Mwesigwa✨ (@Anorld__) June 2, 2019