Boxing Fans React As 'Drake Curse' Strikes Anthony Joshua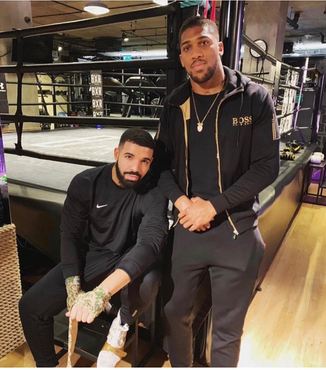 Boxing fans all over the world, have taken to the micro-blogging site, Twitter, to blame rapper Drake for "causing" Anthony Joshua's shock defeat to Mexican-American boxer, Andy Ruiz Jr.
Naija News had reported earlier that the British-Nigerian boxer suffered humiliating defeat on his United States debut after being knocked down four times by the Mexican-American boxer, to leave him out of the heavyweight championship.
Ruiz Jr. stopped Joshua in the seventh round of the fight on Saturday, June 1, at the Madison Square Garden, New York, USA, to become the first Mexican-American heavyweight world champion.
Joshua, a British title-holder, was defending his IBF, WBA and WBO World Heavyweight Titles in the fight against Ruiz, but the underdog knocked him down four times after which he (Ruiz) was awarded a technical knockout.
This online news recalls that Joshua had taken to social media network, Instagram, 10 weeks ago to assure his fans that he would break the "Drake curse", saying "Bout to break the curse. #June1st" in anticipation of the fight against Ruiz but the reverse was the case.
The Drake curse is a phenomenon whereby any team or athlete the Canadian rapper supports ends up losing a big event, a curse AJ vowed to break prior to the match with Ruiz but failed.
Moments after the match, boxing fans took to the Twitter, to blame the Canadian rapper for causing Joshua's lose in the heavyweight fight.
Naija News captured some of the reactions below…
It's happened again… Sorry AJ. The Drake curse is just too strong. pic.twitter.com/B3F8T0eG4m

— Bhavs (@bhavss14) June 2, 2019
I'm not even that superstitious. But I want to beat Drake ?

— Ebuka Obi-Uchendu (@Ebuka) June 2, 2019
Don't snap with Drake if you want to Win ??

Man united did so lost

Dortmund did so and lost

Now Anthony Joshua did the same, and lost to ANDY RUIZ JR! pic.twitter.com/xchfmFbLo3

— itz Osas Cruz (@ItsOsas_) June 2, 2019
This Drake thing has become serious . Look at how this chubby boxer Andy Ruiz TKO'd Anthony Joshua and took all his belts pic.twitter.com/m573m7qv5Q

— Oga Web Designer?? (@samCodeNg) June 2, 2019
Nobody:

Absolutely nobody:

Anthony Joshua: Bout to break the drake curse.

Drake curse: Do I look like a joke to you!

??? pic.twitter.com/ChNQQTmtNi

— Fvcking TALL ?? (@luckyosaze21) June 2, 2019
Drake really just ruined Anthony Joshua's career #JoshuaRuiz pic.twitter.com/oW7YeJdti7

— ℋ (@K49HAS) June 2, 2019
No one:

Absolutely nobody:

Not a single soul:

Anthony Joshua: Drake curse got nothing on me

Drake curse: LMFAOOOO pic.twitter.com/zQtxgT1cWA

— Omoniyi Israel (@omoissyy) June 2, 2019
Anthony Joshua: I'm going to break the drake curse

Ruiz: pic.twitter.com/DvYqK4i1m0

— Zeke™️ (@juniorgunz_) June 2, 2019
When a manager see his athlete trying to take a picture with Drake pic.twitter.com/2iLNia0S26

— Mojola (@Mjayjay_) June 2, 2019
3 weeks ago, Anthony Joshua says he will beat the 'Drake Curse'.

*Takes picture*

Tonight, he loses to Andy Ruiz Jr.

The. Curse. Is. Real. pic.twitter.com/zFIJEIoxEh

— kwiff (@KwiffOfficial) June 2, 2019
Now Drake is the real deal. Anthony Joshua brags about breaking his pic curse and he got beaten by Ruiz. Damn. pic.twitter.com/4iuDeexW8O

— Prinzmedi Ephraim (@Prinzmedi) June 2, 2019
Drake has done it again! ? #AJvsRuiz #joshuaruiz pic.twitter.com/JXKvEzKqBP

— ? (@EIC106) June 2, 2019
Raptors might wanna tell Drake to chill after what happened to Joshua tonight lol pic.twitter.com/laQhJAoFEr

— Somebody (@DudeThatsRon) June 2, 2019
When Drake's curse is real. He just ended Anthony Joshua's career with a picture. A fucking picture ?? pic.twitter.com/EMjBynD7GD

— Teemarh (@pweedyteemarh) June 2, 2019
Breaker of curse, father of dragons… You would have just avoided Drake ? https://t.co/y0z9XO2Tbu

— Oga Web Designer?? (@samCodeNg) June 2, 2019
The Drake curse strikes again ? https://t.co/rKTw2txcG5

— BBC Sport (@BBCSport) June 2, 2019
Dear Drake. Plse hang out with Pep Guardiola more pic.twitter.com/PvlSf5Kg26

— Men in Blazers (@MenInBlazers) June 2, 2019
I blame Drake. pic.twitter.com/CgQsrGrTpi

— . (@thattruthteller) June 2, 2019
Drake needs to leave athletes alone wallahi pic.twitter.com/hm9FsZTL3M

— Chunkz (@Chunkz_EN) June 2, 2019
This is MAD awkward… The Drake curse lives on. Even Anthony Joshua couldn't beat it. pic.twitter.com/p55qpsUzE2

— A Tall Legend! (@ATalllLegend) June 2, 2019
Nah Drake is actually bad luck man ? #JoshuaRuiz pic.twitter.com/syNrihSUXp

— Strictly Boxing Fans (@BoxingBritain1) June 2, 2019
Anthony Joshua got too bold with the Drake curse ?? pic.twitter.com/e1oG3qdQbu

— Gilbert Arenas (@GilbertAgent0) June 2, 2019
Drake Curse is real, y'all. #JoshuaRuiz pic.twitter.com/Ce2in1zJCY

— Will 郭 (@GuoBlue) June 2, 2019
Y'all remember when Anthony Joshua said he was going to break the Drake curse? LMFAOOOOO pic.twitter.com/LQOYZSCU2t

— TM (@T0MIWAsWORLD) June 2, 2019
Imagine if Anthony Joshua went crying to Deontay Wilder in the parking lot right now to team up and beat Andy Ruiz together. That's what the Warriors did to LeBron after 2016.

— Barry McCockiner (@SportsTalkBarry) June 2, 2019
Anthony Joshua just proved the Drake curse is real pic.twitter.com/XR3GAzpIyY

— owen (@owennblewitt) June 2, 2019