Students Set Popular Polytechnic Ablaze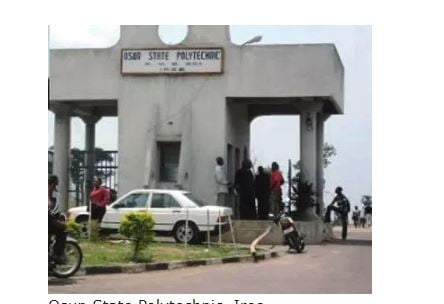 Students of the Osun State Polytechnic in Iree on Saturday set the school clinic and medical equipment ablaze over the death of one student identified as Aminu Hammed.
Naija News reports that the students who were angered by the death of Hammed resorted to a protest which escalated and thereafter led to the destruction of properties in the clinic premises of the school.
Items worth millions of Naira were said to have been damaged as a result of the inferno attack.
Among other items that were destroyed are; the school's ambulance, medical facilities, drugs, equipment, and vehicles.
The protesting students alleged that there was no medical personnel at the clinic to attend to Hammed as at the time he was rushed to the clinic for medical attention.
Hammed was said to have stormed in the examination hall on Friday, May 31.
While confirming the report, the Public Relations Officer of the school, Tope Abiola debunked reports that there was no medical personnel to attend to Hammed when he was brought to the clinic.
Abiola said that when Hammed was rushed to the school clinic at about 4:30 p.m. on Friday, medical personnel on duty made frantic efforts to resuscitate him but stressed emphatically that all their efforts were to no avail.
Abiola in a statement obtained by Naija News said that Hammed was later rushed to a nearby hospital where he gave up the ghost.
In his words, Abiola said in his short statement while speaking on the death of Hammed; "It is very shocking to us that the institution would lose such a precious soul.
"He slumped shortly after writing his examination in the hall and he was immediately rushed to the school clinic.
"He was a Muslim and he was observing the Ramadan fasting.
"He would have slumped, due to loss of stamina. He was buried on Friday evening in his hometown, Oba'agun, community close to Iree.
"We sympathise with his family and we pray to God to console them."
Owing to the protest by the students, the management of the school has postponed academic activities in the institution.
This is to help maintain peace and to mourn the pitiable demise of Hammed.