Full Time: Champions League Totteham 0-2 Liverpool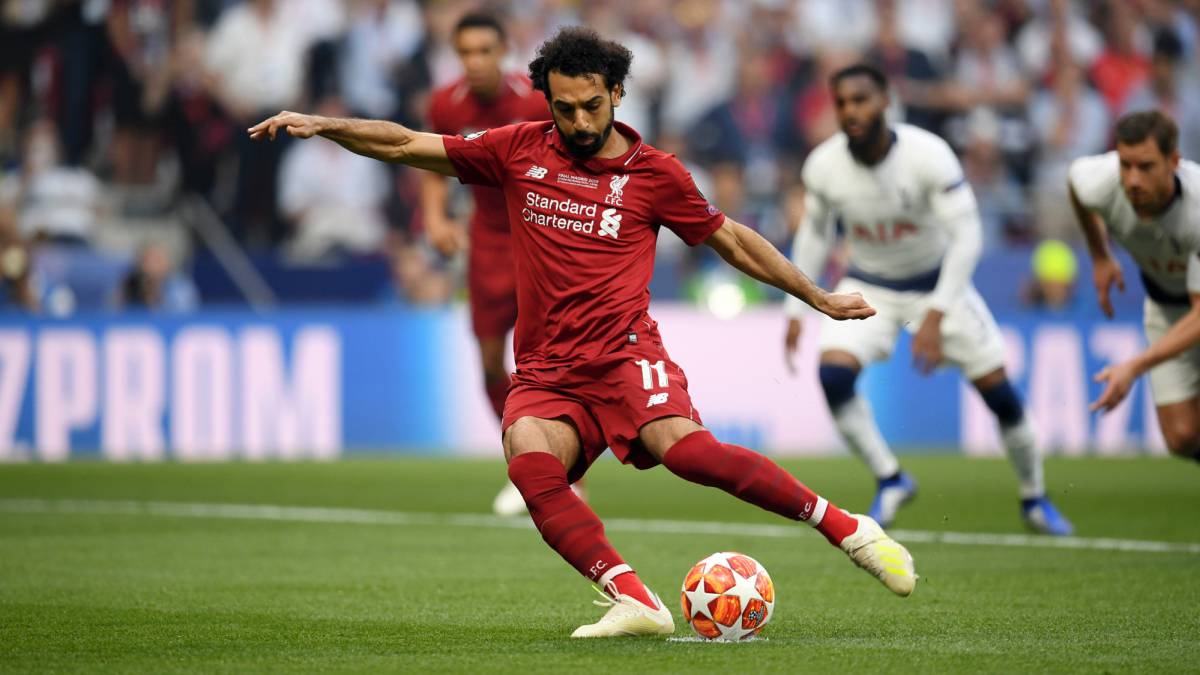 94′ 2nd Half
To their credit, Tottenham aren't prepared to give up. Alisson is on hand to deny shots from Son and then Kane
90′ 2nd Half
Five minutes added time
88′ 2nd Half
Here in Madrid, Liverpool has absolutely nowhere near their best but they have done enough to win. And after this fascinating. It is richly deserved.
87′ 2nd Half
GOAL! Tottenham 0-2 Liverpool: Divock Origi, their hero against Barcelona, seals Liverpool's sixth European trophy!
83′ 2nd Half
Rose is caught by Milner just outside the penalty area. This is dangerous
81′ 2nd Half
Llorente is on for Spurs. He replaces Alli, in Tottenham's second switch
80′ 2nd Half
Alisson called into action, not just once but twice! Son's shot from distance is dipping and Alisson makes an awkward save. It comes back out to Moura who can only poke a toe at it and the Liverpool shot-stopper is down again to hold it
79′ 2nd Half
Kane switches the play to Trippier. His precise cross picks out Alli who can't get the direction on his header and can't keep it down
77′ 2nd Half
The tempo of a match of this pedigree is quite disappointing
76′ 2nd Half
Excellent defending- Wonderful defending from Van Dijk. The Reds centre-back shows frightening pace to take the ball off the toes of Son, who looked like he was through
74′ 2nd Half
Eric Dier replaces Sissoko, who limps off the field
73′ 2nd Half
Alli tries to lob Alisson with a first-time effort but he doesn't get enough on the shot and the Brazilian catches it with ease
71′ 2nd Half
Trippier drives to the by-line but his cross evades Kane by the slightest of margins. The English full-back gets a second chance but this time Alisson is off his line to catch
69′2nd Half
With a drop of the shoulder, Mane goes past Eriksen easily, laying it off to Milner who shoots just wide
68′ 2nd Half
Moura's introduction has prompted a change of formation for Tottenham – they're now operating with a 4-2-4-1. Alli and Son are the widemen with Moura playing in behind Kane.
67′ 2nd Half
Alexander-Arnold tries to squeeze a ball into a dangerous area but Alderweireld reads it, heading it behind for a corner. The resulting set-piece delivery is desperately poor
66′ 2nd Half
Moura comes on, Winks is off
64′2nd Half
Tottenham seems to be dictating the tempo. Liverpool has just 37 Percent of the ball
62′ 2nd Half
Wijnaldum makes way for Milner. Spurs have three attacking players warming up
58′ 2nd Half
The first change of the night. Origi comes in for Firmino
57′ 2nd Half
Son is having a good time against Robertson and he wins his team a corner. The delivery is whopped to the back post but Alisson punches it clear
56′ 2nd Half
A long ball feeds Ali in behind the Reds' defence but Alexander-Arnold gets in front of his shot
54′ 2nd Half
Salah shot is blocked but the danger isn't over. Robertson drops an inviting cross into the danger area but Lloris is out bravely to take the ball from Mane's feet!
52′ 2nd Half
What a cross from Alexander-Arnold but it's just ahead of Salah who would surely have converted had he been a yard closer to goal.
50′ 2nd Half
Spurs try a quick free-kick but Son makes his run too and is flagged offside
48′ 2nd Half
A bright start to the second period from Spurs. Trippier whips one to the far post, Alli heads it on but Alexander-Arnold hacks it clear. It appears that Son has swapped flanks
47′ 2nd Half
The match is bound to open up at some stage, one would hope. Pochettino, of course, has Lucas Moura waiting patiently on the bench and the Brazilian is a potential match-changer. Pochettino may just give it 15 minutes or so before throwing him on.
46′ 2nd Half
Tottenham get the second-half underway. It's as you were in terms of personnel
47′ 1st Half
Half Time. So far, just Salah's penalty is the goal so far
46′ 1st Half
Dane lifts a really poor shot over the top from the edge of the box. That just about sums up a weird first-half
44′ 1st Half
Spurs launch a counter-attack, opening up a dangerous three-vs-three scenario. But Alli's attempted through-pass to Son is dreadfully overcooked and Alisson is off his line quickly to gather the loose ball
42′ 1st Half
Liverpool win yet another corner but this time Spurs clear easily at the near post. Three minutes until the break
40′ 1st Half
Tottenham, are down to 10 men for now, as Vertonghen receives treatment for his arm injury
38′ 1st Half
Robertson eats up a lot of ground and with few options, he lines up a shot from all of 30 yards. And it's an absolute rocket. Lloris does well to tip it over the bar and the Scotland international still hasn't scored this season. But that was a cracking effort.
36′ 1st Half
Henderson beats Rose on the flank and opens up the space for a cross… but it drifts over the head of Mane
35′ 1st Half
There's a rather subdued atmosphere in Madrid at the moment, which is strange. The football on view at the moment certainly isn't helping. We need another goal to open things up!
33′ 1st Half
Spurs have enjoyed some nice possession, but the final ball has been really poor. Alisson hasn't been tested yet.
30′ 1st Half
The action in the match so far has been below expectation
29′ 1st Half
So far Kane has had just five touches on the ball
26′ 1st Half
Pochettino is angry on the touchline at Henderson. The referee comes over to cool the situation down
24′ 1st Half
Liverpool's full-backs are getting forward with plenty of space. Robertson whips in a cross, it's a big one for Rose to deal with but he gets enough on his header to take it away from Salah who was waiting to pounce an attack
23′ 1st Half
Under pressure from Alderweireld and with his back to goal, Salah holds the ball up well, swivels, but then fires a wild shot into the stands
21′ 1st Half
Salah's shot is deflected behind for another Liverpool corner. Van Dijk makes his way forward to contest Alexander-Arnold's delivery
20′ 1st Half
Liverpool haven't been able to keep the ball well so far
19′ 1st Half
GOOD DEFENDING! Van Dijk is pulled out of position as Son drives forward in space, but Alexander-Arnold reads the situation well and gets across to make the tackle
18′ 1st Half
The game is stopped as a streaker gets on the pitch. Imagine spending and coming all the way only to do something so stupid and end up in a cell for the night.
17′ 1st Half
That was close! Alexander-Arnold shoots from all of 30 yards and it's not far away. It moves just wide of Lloris' post, though the keeper probably had it covered
14′ 1st Half
Vertonghen picks out Trippier with a delightful pass from all of 60 yards, but the full-back moves the ball backwards and the attack comes to nothing. Tentative
Salah enters the history of the Champions League:
01:48 – Mohamed Salah's opener for Liverpool is the second fastest goal in a Champions League final, only behind Paolo Maldni (00:50) for AC Milan versus Liverpool in 2005. Blocks. #UCLfinal pic.twitter.com/xymH4g79DG

— OptaJoe (@OptaJoe) June 1, 2019
11′ 1st Half
Tottenham have had 65 per cent of the ball in the early stages, both sides have made a bold start, despite Liverpool's early goal
11′ 1st Half
Mane wins Liverpool their first corner, which Alexander-Arnold whips in. There are a lot of bodies in front of Lloris but the Spurs keeper does well to punch it clear.
9′ 1st Half
Sissoko isn't known for his goalscoring record and he lifts a shot from 30 yards high over the bar. Decent response from Tottenham, though.
8′ 1st Half
Dele Alli Throw In
8′ 1st Half
Not sure if that was a penalty but it has been awarded already, but it's harsh on Spurs. Mane tried to deliver a cross, but the ball struck Sissoko, who was very close to the player, on his chest first and then on his outstretched arm
6′ 1st Half
Tottenham Hotspur make a positive response, with Son carrying the ball into the box and forcing a corner. But it's the man mountain Van Dijk who rises highest to clear with his head.
5′ 1st Half
That will settle Liverpool's nerves – and it will test Tottenham's mental strength. They have a long, long time to get back into the contest.
5′ 1st Half
Son Heung-Min takes a corner Kick
4′ 1st Half
Andrew Robertson (Liverpool) Throw In at 4′
2′ 1st Half
Salah scores from the spot for the Reds
1′ 1st Half
A penalty in the first minute to Liverpool
1′ 1st Half
The match kicks off
MATCH STARTS!
We remind you of the official line-up of Tottenham and Liverpool for this great final! Kane and Firmino being the mainstays of each team!
Tottenham:
1 Lloris, 5 Vertonghen, 3 Danny Rose, 2 Trippier, 4 Alderweireld, 23 Eriksen, 8 Harry Winks, 7 Heung-Min Son, 20 Dele Alli, 17 Sissoko, 10 Kane.
Liverpool
13 Alisson, 66 Trent Alexander-Arnold, 4 Virgil Van Dijk, 32 Matip, 26 A. Robertson, 14 Henderson, 5 Wijnaldum, 3 Fabinho, 11 Salah, 10 Mane, 9 Roberto Firmino.
Source: Naija News