Nigerians React As Oyo Govt Bans NURTW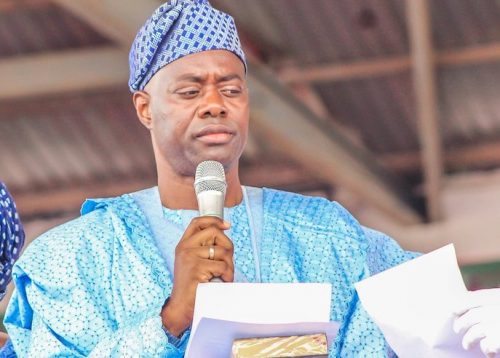 The newly inaugurated Governor of Oyo State, Seyi Makinde, on Friday banned the National Union of Road Transport Workers (NURTW).
In a statement to newsmen, Makinde disclosed that government officials will take over motor parks in the state.
This act has drawn mixed reactions from Nigerians, with some praising the governor while others kicked against the move.
See reactions below:
Seyi Makinde's boys. The current NURTW leadership does not want to step down, Makinde's NURTW supporters will never accept defeat. For peace to reign in Ibadan, GSM had to proscribe NURTW till further notice. After settling the dispute, his boys will take over NURTW leadership.

— Mercy (@ItssMz_Mercie) May 31, 2019
Oyo state governor bans NURTW (popularly known as agbero).

Makinde has sense!

This is what Lagos state governor should replicate.

— Kemi Ariyo (@d_problemsolver) May 31, 2019
Seyi Makinde is making some early blunders. Too early to bring out your Queen. Play around with your knights and pawns for awhile.

1) Sack of LG Chairmen
2) Saying you won't pay minimum wage
3) Proscribing NURTW in the state.

What do i know sef.

— Bashorun Imoleayo Kongi (@lightdworld) May 31, 2019
It is obvious so many people on twitter don't know the motive behind proscribing NURTW in Oyo State by Seyi Makinde. Every government has its NURTW loyalists, and the loyalists take control of NURTW immediately their person is sworn in.
The current NURTW were Ajimobi's boys

— Mercy (@ItssMz_Mercie) May 31, 2019
And supported Adelabu during campaign. They even attacked Seyi Makinde's during some of his campaigns.
Another faction of NURTW supported Seyi Makinde and assisted him during his campaigns. Since Adelabu didn't win the election, the current NURTW leadership 'must' step down for

— Mercy (@ItssMz_Mercie) May 31, 2019
Well Done !! Your Excellency Mr Governor you have taking the Bold step to put Nigeria Politics on Right part . NURTW have no place in motor park . All those useless Agberos , Must NUJ as a body have their office in all News paper house ??As one Agbero claim they are professional

— John (@John99930331) May 31, 2019
Oyo State Governor, Seyi Makinde scrapping NURTW is still something I really cant say if it's too early or properly timed..

But one thing of which I am certain is NURTW operates like a Mafia association.

It should either be reorganised or tossed away in every state.

— The Kingmaker? (@SmithVinci) May 31, 2019
Meanwhile; Agberos, street boys when they hear Gov.Makinde proscribes NURTW >>>(Lagos next stop) pic.twitter.com/cl0HF9Hor2

— Your MCM role model (@presh_stones) May 31, 2019
Seyi Makinde @seyiamakinde gives tuition free education to pry/high sch students in Oyo State!
Seyi Makinde proscribed the unruly NURTW in Oyo State to prevent a breakdown of law and order!
Oyo State @OfficialAPCNg:We are disappointed in Seyi.
APC are sworn enemies of the people!

— JANUS (@THEGATEWAY__) May 31, 2019
Download Naija News App. Advertise with us. Send us enquiries and press releases.