Sit-At-Home: Read What People Are Saying About 'Biafra Remembrance Day'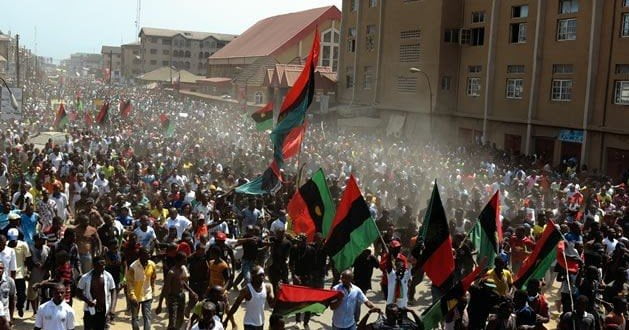 A storm of reactions by Nigerians has greeted today's 'Biafra Remembrance Day' celebration by members of the Indigenous People of Biafra (IPOB) and other pro-Biafra activists.
Naija News had reported earlier that IPOB declared May 30 as sit-at-home day throughout the Southeast referred to as "Biafraland" by pro-Biafra activists and Nigeria in remembrance of its fallen heroes and heroines.
Ahead of the sit-at-home today, Nnamdi Kanu addressed Biafrans where he reminded them that today is a "day of serious thinking and reasoning."
The IPOB leader said: "Today is a day of serious thinking and reasoning on the part of our people and the day the entire Biafraland is locked down, markets are not opened, no schools, no offices are opened, no banks, nothing.
"Everywhere is at a complete standstill and total, shut down," Kanu said in his 6 am broadcast which was monitored by Naija News.
With just a few hours to the celebration, Nigerians have taken to the micro-blogging site, Twitter to air their views on the 'Biafra Remembrance Day'.
Naija News captured some of the reactions below…
Since #Nigeria has refused to remember those killed during the Biafran War of 1967 to 1970 (and those civilians killed in the pogroms of 1966), then let the people grieve and remember their dead how they chose to.

If they want to sit at home and mourn, so be it. #Ozoemena.

— Chxta (@Chxta) May 30, 2019
Today is #BiafraRemembranceDay. Hopefully someday, we will start having open honest conversations about our history…
Ozoemena 🙏🏾

— Ebuka Obi-Uchendu (@Ebuka) May 30, 2019
Today being #BiafraRemembranceDay, I join others in remembering all those who died in the war, and say "ozoemena" (never again)!

— Dr Joe Abah (@DrJoeAbah) May 30, 2019
We shall NEVER forget these terrible events and they must NEVER happen again. No matter how much we disagree, we must protect life and not take it.May the souls of all those that were murdered in the pogroms in the north in 1966 and in the civil war RIP. #BiafraHeroesDay2019

— Femi Fani-Kayode (@realFFK) May 30, 2019
We were headed down to the stream to fetch water. Suddenly, Fighter jets, dat took delight in killing pple even in the market appeared, we all ran for cover, as I turned around to figure where best to take cover I saw the head of one of my playmates severed from his body.

— Charly Boy Area Fada 1 (@AreaFada1) May 30, 2019
Today is Biafra Heroes Remembrance Day.

Today we remember all who gave their life for a people and a country that could have been.

To all the Military officers, Police, Child soldiers and civilians who died, we remember and say "Rest in Peace".#BiafraHeroesDay2019#Ozoemena pic.twitter.com/TqPQTBhSyB

— Ikenna Ronald Nzimora – Aku Na Esi Obi Ike (@ronaldnzimora) May 30, 2019
https://twitter.com/stephie_coco/status/1133995793281691649
I'm not an IPOB member, but today I sit at home to remember all the fallen innocents butchered b4, during and after the war including the ones being butchered by herdsmen and other tribal clashes. May YHWH have mercy on 9ja #Biafra #BiafraHeroesDay2019 pic.twitter.com/rVEroHwF9o

— The Lord of Gold (@igbomoto) May 30, 2019
https://twitter.com/frankllyno/status/1133995634523017217
I'm Ngwa
That's my lineage

I'm Nigerian
That's my country

I'm Igbo
That's my identity.#BiafraHeroesDay2019

— Pro-Progressive Nigerian (@alwelldinho) May 30, 2019
Today we remember our heroes!
They fought bravely and stood as men! Today we remember their death, not in weakness but in strength! #BiafraHeroesDay2019#Biafrans
@DailyPostNGR @AskPHPeople @Ehix07 @PremiumTimesng pic.twitter.com/YeCWB5Ycux

— Ikechukwu (@iyke_nwabuko) May 30, 2019
We remember for as long as our blood is red.

We remember for death is still dark.

We remember because the land is still green.

We will remember, for as long as the sun shines.#BIAFRARemembranceDay#ncheta#BiafraHeroesDay2019

— Egoigwé (@orizucj30) May 30, 2019
https://twitter.com/TheRetweeterNg/status/1133995786176540674
https://twitter.com/official_ceeboy/status/1133995610548428801
— gwenjewelleries(perfume oil/Accessories plug) (@Gwenfrances5) May 30, 2019
We shall never forget #BiafraHeroesDay2019 pic.twitter.com/NrZfWByJLG

— Chibuikem Nnanna (@Chibuikeprince1) May 30, 2019
https://twitter.com/obytwic/status/1133991564475338752
An incident that made my father the only son, the pain and effect still lingers.

To the fallen heroes of #Biafra.
I pray for mine and affected families, who lost loved ones, family and properties in the pogrom.#BiafraHeroesDay2019 #BIAFRARemembranceDay pic.twitter.com/t4puaw2re5

— Amy (@Ahmypeace) May 30, 2019
Arụ mere na agha. Every family lost a loved one. Burial in biafrian was a steady call.

Toady we remember your souls and every soul lost in the biafrian cause.
Rest on for "There was a country"

Ọzọmena##BiafraHeroesDay2019#BIAFRAMemorialDay pic.twitter.com/qIovxB7PLY

— Adaobi🧚🧚 (@Chimnoya1) May 30, 2019
#BiafraHeroesDay2019
It's either we get #Biafra or we die getting her. @UN @RoyalFamily @deBritish pic.twitter.com/VTHtyactgh

— Uduma Okoro (@udumaokoro3) May 30, 2019
The where resilient against all odds.
I celebrate you. #BiafraHeroesDay2019 pic.twitter.com/1B537geILj

— Pablo pondeck (@life_of_nnamdi) May 30, 2019
Vigil last night to honour our heroes.#BiafraHeroesDay2019 pic.twitter.com/j2Hrg1EXj1

— Chibuikem Nnanna (@Chibuikeprince1) May 30, 2019
For all those who gave up their lives that we may still exist, We will always remember!#BiafraHeroesDay2019 pic.twitter.com/CoLJ3vxY0Q

— OjiỌfọ 💪💪💪 (@Oja_Igbo) May 30, 2019
In remembrance of those who were slayed, raped and displaced, we are sitting at home today to commemorate and honour these heroes.#BiafraHeroesDay2019 pic.twitter.com/nmB8222v1R

— Ikechukwu (@UdebuaniManuell) May 30, 2019
I remember my parents telling me that even years after the war, whenever an airplane passes any where in the south east, people would jump into gutters and rivers.

There are people still suffering from the trauma, that lost every thing their family built #BiafraHeroesDay2019 pic.twitter.com/0M6a8LgvE9

— Daniel Emeka (@realdanielemeka) May 30, 2019
https://twitter.com/okereaforvince/status/1133969610594803712
Today we celebrate our fallen heroes, our Igbo warriors our Biafran soldiers … thank you for your sacrifice.

The sun is still shining. #igboheroesday#BiafraHeroesDay2019 pic.twitter.com/mIa5OZcj7t

— Daniel Emeka (@realdanielemeka) May 30, 2019