Fani-Kayode Speaks On Obasanjo, Jonathan Absence At Buhari's Inauguration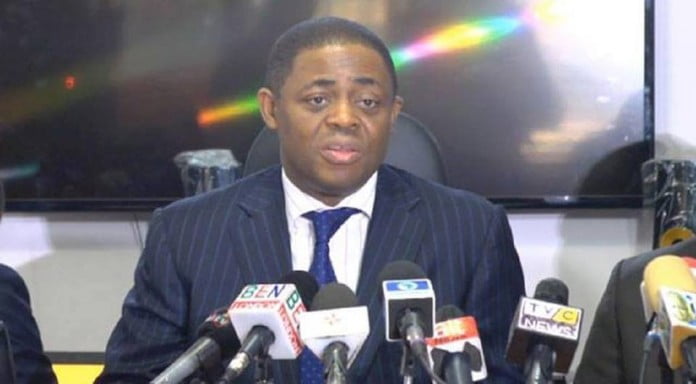 Former Minister of Aviation Femi Fani-Kayode has hailed former Presidents Olusegun Obasanjo and Goodluck Jonathan for shunning the inauguration of President Muhammadu Buhari for a second term.
In a post on his Twitter page, the PDP chieftain mocked Buhari for not delivering a speech to Nigerians after his inauguration.
He also commended former Heads of States for snubbing the event which held at the Eagles Square, Abuja.
Fani-Kayode wrote: "I commend the courage and fortitude of Obasanjo and Jonathan for NOT attending the fraudulent inauguration ceremony that took place in Abuja this morning when a liar, a pretender, an imposter, an election-rigger and an electoral thief was purportedly sworn in as our President.
"The thief was so ashamed of himself that he could not even muster the courage to say "thank you" or offer a speech after being "sworn in".
"Instead, he put his tail between his legs and crawled back to hide in his Villa- fortress without saying a word to anyone. Shame on him!
"Former Heads of State Gen. Ibrahim Babangida and General Abdulsalami Abubakar didn't attend the show of shame either. Kudos to them.
"Obasanjo- absent. Jonathan – absent. Babangida- absent. Shonekan – absent. Abdulsalam- absent. Representative of U.S. – absent. Representative of U.K. – absent. Gowon was the ONLY former Head of State that attended. Message delivered loud and clear!"