Senator Stella Adaeze Oduah – The People's Princess By Nonso Chukwudebe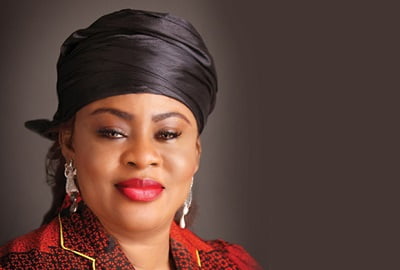 The first thing that hits you as you drive into the Akili Ozor home of our host is the sheer serenity that pervades the entire environment. From the lush green vegetation littered around to various signposts welcoming and directing you, to the various aspects of what is obviously a farm settlement of sorts where various activities from poultry, fishery, piggery, and other farming activities are carried out.
Just when you are about being sucked into this beautiful scene, your senses are immediately jolted by an imposing white edifice where its owner stands smiling to welcome you to what you now understand to be her living quarters. I recall having a lot of questions on my mind when I first received that call from a very well modulated and almost angelic voice on the other end,
"Please, can we meet at my place so we can wrap up various aspects of our ongoing discussion?"
Indeed, I had a lot on my mind and I truly wanted to understand the personality behind the numerous stories being weaved around her person. Those stories that attempted and failed woefully to give intimate glimpses of our beloved senator. I couldn't wait to kick it off as we settled in her living room to engage in what later turned out to be nothing short of a revelation.
Senator Princess Stella Adaeze Oduah is a household name having imprinted her legend in the hearts of Nigerians from the days when she held sway like a colossus in her Sea Petroleum & Gas private business, daring into waters hitherto reserved for the menfolk and making a huge success of it to her days as a public servant with stints as Nigeria's minister for Aviation where her indelible imprints remain unrivaled.
We started off by examining her almost concluded four year stint as a senator representing Anambra North Senatorial district where she has distinguished herself as a leader with a heart of gold owing to her numerous interventionist programmes that has seen a large swathe of her constituents benefiting in one way or the other from those who have availed themselves of her countless skill acquisition schemes designed to not only imbue them with skills pertaining to their areas of interest but tools with which to practice and make life more comfortable for them.
And as I listened with rapt attention, I couldn't help but notice an area she kept on harping on when she digressed, telling me a story of her experience on the campaign trail where she witnessed firsthand the ravages of a drug problem currently holding sway amongst our youths and as she spoke, one could hear the pain in her voice as she described the ordeal of witnessing the debilitating effects of drug use in the lives of the youth she encountered. She shared with me her dismay when a team of jobless youths approached her one early morning with an obviously unanimous resolve to "assist" her in doing all the dirty jobs those referred as thugs are wont to do. According to her, it was at that point she made up her mind to dedicate her second tenure to combating this menace.
Another group she holds dear to her heart are women whom she rightly believes have not really been given the opportunity to unleash the huge natural potentials inherent in them and she opined that women who form the bulwark of society, ensuring harmony and peace deserve to be given more opportunities and you could see her resolve to do more than she has already been doing in this area.
Who is Senator Princess Stella Oduah?
I reckon countless persons have attempted to answer this question but like a blind man feeling only an Elephant's tusk but insisting on describing it as a hard animal with a sharp piercing edge, our Princess cannot really be described in one sitting but she is oftentimes a most vilified personality owing to her unassuming nature and her need to focus on service, rather than self. This has however led to false narratives being crafted to smear her image. It will take only a few minutes of an encounter with our able senator to find out that she is really a kind, softhearted human being whose mind is always in a race, agonizing and dreaming up new ways to ameliorate the plight of the downtrodden amongst us.
Nothing epitomizes this clearly than her numerous populist programmes that only recently has seen well over five thousand people with various medical issues ranging from eye problems, prostate, tumours, etc were given completely free medical treatments as witnessed in the Saint Charles Borromeo Hospital venue of the scheme in the month of May 2019.
Contrary to what most think, Princess Stella Oduah is actually an introvert who spends most times with her thoughts, reading and plotting the next big thing designed to put smiles on the faces of her constituents and it is interesting to observe how she instinctively comes alive excitedly when the conversation dovetails into issues that have to do with lifting others up and assisting them to their full potentials, then she becomes fully animated, reeling out statistics to buttress her well-considered points and you come away with the feeling of having met a well-read, incisive & intelligent personality.
Not one to hide her feelings, her pain is uncomfortably evident when she dwells on the subject of loss and from giant billboards announcing you to her home to framed pictures of her late son Maxwell strategically positioned in her living room, you get a sense of one forever grappling with the finality of death and this probably explains why she is always seeking out ways to immortalize her loved ones from her highly popular people oriented MAXLIFE foundation in honor of her son to the soon to be unveiled Sickle Cell Medical Insurance Scheme which is in honor of her younger brother, Prince Charles Nnamdi Oduah who recently succumbed to the disease.
In all these, you get a sense of a spirit unwilling to be held bound by the vicissitudes of life but forever striving to turn the bricks hurled at her into building blocks of progress designed to uplift the plight of others. As I drive out of her estate, I couldn't help but ponder our final exchange where I gave a brief speech, thanking her for her hospitality and remarking that I at least now had a fair glimpse of who she was and what she stood for, to which she had immediately responded with a question.
"Do you really think you've known everything about me?"
I recall driving out with the realization that I'd barely scratched the surface but one thing is clear for, in the past few years, she has remained consistent and unwavering in her unparalleled resolve to see improvement in the plight of the youths & women in her senatorial district and to also see that they are given a pride of place within society. Her numerous programs bear eloquent testimony to these efforts.
An opinion piece by Ezennia Nonso Chukwudebe. Mr. Chukwudebe is the Communications Manager
For Senator Stella Adaeze Oduah (OON).
The opinions expressed in this article are solely those of the author and not of Naija News.
Source: Naija News