Malawian President, Peter Mutharika Re-elected For 2nd Term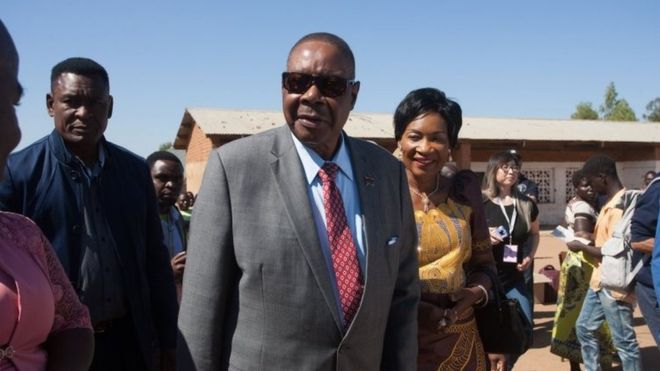 Malawia's President Peter Mutharika has been re-elected with a total of 38.5 per cent of the vote counted.
Naija News understands that the 78-year-old incumbent had faced strong competition in the 21 May election, including from his deputy.
The result which was announced earlier today after an injunction ordered by the country's high court was lifted saw the challenger Lazarus Chakwera, finish in second place.
President Mutharika's deputy, Saulos Chilima, finished in third place – winning just over 20 per cent of the ballot. He had earlier said his name was initially not on the electoral register when he turned up to vote. With high levels of national poverty, the economy and corruption were key election issues.
Naija News understands that nearly 7 million people registered to vote in an election which was described as the most unpredictable election the country has ever witnessed. About 5 million people turned up for polling. A total of 74,719 votes were declared null and void.
The Malawi Congress Party (MCP) had earlier sought a delay of the results over allegations of vote-rigging. They wanted recounts in at least 10 of the country's 28 voting districts.
Despite concerns, Malawi's high court lifted the injunction on Monday and allowed the results to be released – confirming the president's slim victory.
Source: Naija News