Fulanisation: Obasanjo, Namdi Kanu On Same Page – IPOB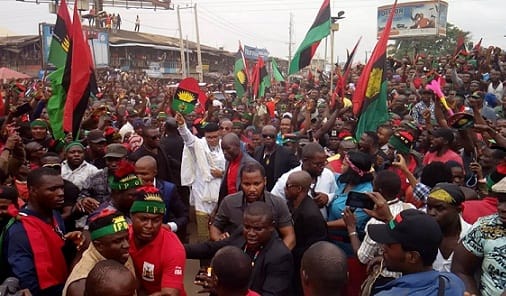 The Indigenous People of Biafra (IPOB) has said former President Olusegun Obasanjo's comment on "Fulanisation" and "Islamisation" of Nigeria was only a repetition of what its leader, Nnamdi Kanu, said before.
The former president had stated that the issue of Boko Haram and herdsmen should be tackled with seriousness.
"They are now combined and internationalised with ISIS in control.
"It is no longer an issue of lack of education and lack of employment for our youths in Nigeria which it began as, it is now West African fulanisation, African Islamisation and global organised crimes of human trafficking, money laundering, drug trafficking, gun trafficking, illegal mining and regime change," Obasanjo said.
Reacting in a statement by its spokesperson, Emma Powerful, IPOB stated that had Obasanjo spoken earlier many victims of Fulani herdsmen would still be alive today.
The statement read in part, "We say good morning to the former President Olusegun Obasanjo, who is only now merely echoing what our leader, Nnamdi Kanu, has been saying repeatedly for years.
"What is mind-boggling is that Nigerians, or should we say the parochial media, allowed an impostor to be fraudulently imposed on the weak, docile and battered populace of Nigeria.
"This impostor is now wreaking untold human and economic havoc on the human guinea pigs the British assembled together and condescendingly named Nigerians."
"Had the likes of Obasanjo spoken out earlier when our leader repeatedly warned of what was happening, many innocent victims of Fulani herdsmen would still be alive today, many ethnically-cleansed communities in the Middle Belt would have been spared also."