Breaking: President Muhammadu Buhari Signs 2019 Budget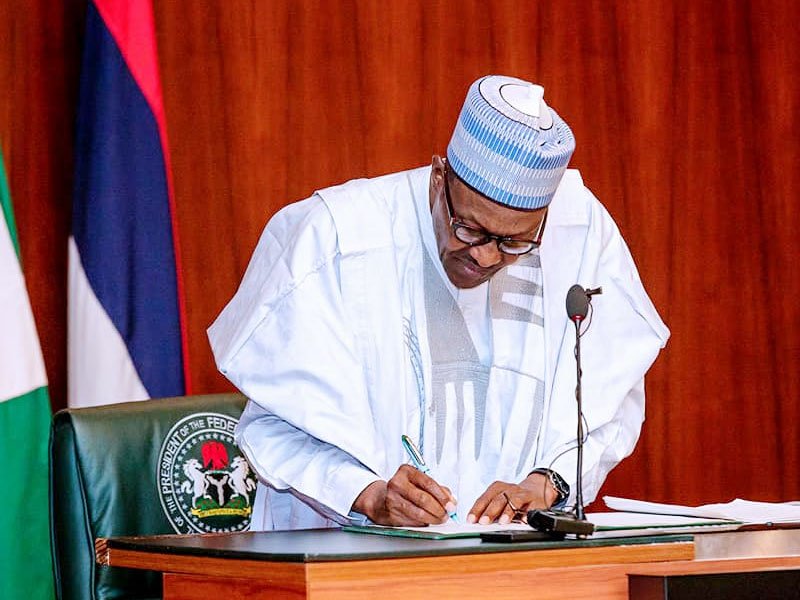 Buhari Signs 2019 Budget Into Law
President Muhammadu Buhari on Monday at the State House in Abuja, signed the 2019 Nigerian national budget of N8.91 trillion into law.
Naija News understands National Assembly leaders including President of the Senate, Bukola Saraki and Speaker of the House of Representatives, Yakubu Dogara were in attendance for the signing ceremony.
JUST IN: President Muhammadu Buhari has signed the 2019 Budget into law.

— Bashir Ahmad (@BashirAhmaad) May 27, 2019
Recall President Buhari had earlier in December 2018, proposed a budget of N8.83 trillion to the National Assembly, but the Christmas, New Year as well as the general election breaks, delayed the passage till April 2019.
The lawmakers finally passed an N8.91 trillion national budget on April 30, after increasing it by about N90.3billion.
A breakdown of the 2019 budget as approved by the National Assembly include the capital expenditure of N2.09trillion, recurrent expenditure of N4.05trillion, statutory transfers of N502billion, fiscal deficit of N1.9trillion, and special intervention of N500billion.
A debt service of N2.25trillion was also approved by the lawmakers. Of this, Channels TV reports N1.7trillion was approved for domestic debts, while the sum of N433billion was provided for foreign debts.