Peterside Issues Strong Warning To Rivers' Governor Wike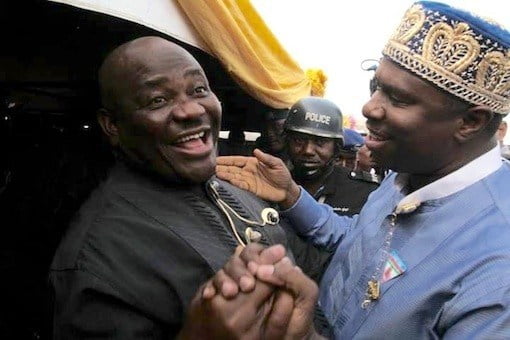 The Director-General of the Nigerian Maritime Administration and Safety Agency, NIMASA, Dr. Dakuku Peterside, has again charged the Rivers State Governor, Nyesom Wike, to double-up in his fight against insecurity in the state.
Naija News reports that Peterside drew the attention of the state governor to the security situation in the state while reacting against the rising killings and relocation of businesses from the state.
Peterside urges Wike to either find a stop to the security challenges in the state or decline taking another Oath of Office come May 29, 2019.
The NIMASA boss who handed down the challenge in reaction to the deteriorating security in the state argued that as a state governor, Wike's primary duty was to secure the lives and property of the people in the state.
Peterside lamented that the state was gradually becoming a ghost state and a cemetery where criminals now use to carry out their acts.
In his words, Peterside said; "Life, in Rivers State has become a sort of jackpot as residents who wake up in the morning are not sure of living to see another night, just as those who eventually make it to the night are uncertain they would see the next morning. When such residents manage to snatch a morsel of sleep, they wake up amid the horrors of severed heads, decapitated bodies, and trails of blood. To Rivers residents, day and night have both become emblems of terror. In Wike's Rivers State, people are killed while waiting for or driving in traffic, on the streets, while watching a game of soccer and at homes. Both the poor and wealthy live in fear of each other."
The NIMASA Director General said that latest figures emerging from the state were both frightening and capable of permanently erasing the state from the league of states of potential business destinations especially from the minds of business owners and investors who might be considering the state as a venue for their businesses.
"Insecurity has been this lucrative for the direct actors because Mr. Governor has patronised and pampered its primary and passive perpetrators. Wike knew that though keeping those violent structures from 2015, when he first contested for the governorship, to 2019, when he sought re-election, would build for him a charred and bloody boulevard to return to the Office of Governor of Rivers State, yet he cared less to the cost it would impose on the people. Rather than protect Rivers State, as he swore to do on 29th May, 2015, Wike chose to protect his gluttonous quest for public office. Like his mentor, Emperor Nero, Wike partied and gulped drums of champagne while Rivers burnt," he said.
Source: Naija News