Residents Take Law Into Their Hands, Lynch Suspected Kidnapper In Kaduna State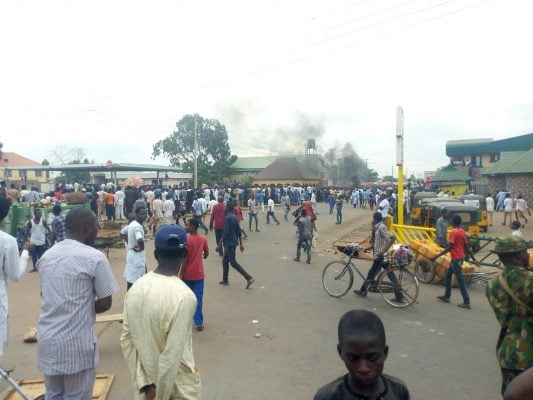 Residents Of Kawo Community Kill Man Suspected To Be A Kidnapper
Residents of Kawo community in Kaduna State have lynched a man to death, as they alleged he was attempting to kidnap someone in the area.
Naija News understands that the grievance of the community is not unconnected to the kidnap of a senior Pastor of Evangelical Church Winning All (ECWA), Dankade, in Igabi local government area of Kaduna State, and 16 members of the church, among other kidnap incidents.
Daily Trust learned that trouble started around 8 am when residents of the area received information that some kidnappers, numbering three, attempted to abduct some people.
The residents immediately blocked the roads leading in and out of the community, chased down the kidnappers and killing one of them in the process.
It was also gathered that the police, upon receiving information that there was chaos in the area, mobilized to the area to disperse the mob. They killed one person identified as an orange seller and injured several others.
A resident, Sani Dauda said, "I sighted a crowd from far and immediately rushed down. That is when I learned that kidnappers visited the community and in the process, on person was killed while others were injured. They have been taken to the Kawo general hospital for treatment."
He added: "There is one kidnapper, who was arrested by the police after they saved him from the mob and that is why the protest is still one. They want the police to hand him over to them so that he does not come back to terrorize them after he is released by the police."
The crowd reportedly gathered in Kawo area just by the Kawo bridge as early as 8.30am to protest the killing of an orange seller by a police stray bullet.
Daily Trust reports that a combined team of soldiers and policemen had to set several tyres on fire, covering the area with black smoke, to tame the crowd
The police spokespersons, DSP Yakubu Sabo is yet to respond to the incident.
Source: Naija News