Nigeria's Economy Grew By 2.01% In First Quarter Of 2019 – NBS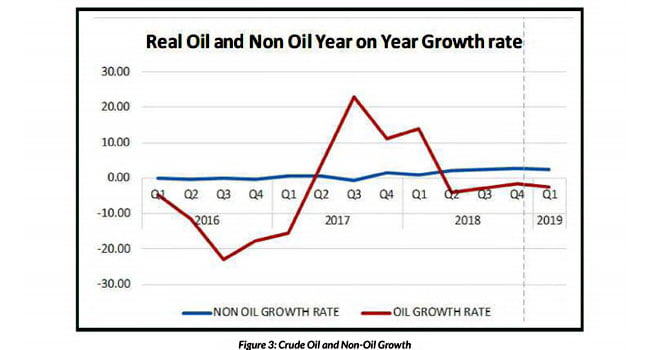 Nigeria's gross domestic product grew 2.01% in the first quarter of 2019 compared with growth of 1.89% in the same period a year before, the National Bureau of Statistics revealed earlier today.
The slow growth is recorded in the first quarter after the oil sector contracted.
Compared to the first quarter of 2018, which recorded a real GDP growth rate of 1.89%, the first quarter 2019 growth rate represented an increase of 0.12% points. However, relative to the preceding quarter (fourth quarter of 2018), the real GDP growth rate declined by -0.38% points.
GDP growth in the oil sector was -2.40% in first quarter of 2019 indicating a decrease by -16.43% points relative to the rate recorded in the corresponding quarter of 2018.This shows a growth decreased by -0.79% points when compared to Q4 2018 which was -1.62%.
Nigeria's economy emerged from a recession in 2017 and has been recovering largely due to higher oil prices, though growth remains fragile.
Download NAIJA NEWS app: