FEC Approves Funds For Agbo Railway Construction, Security, Others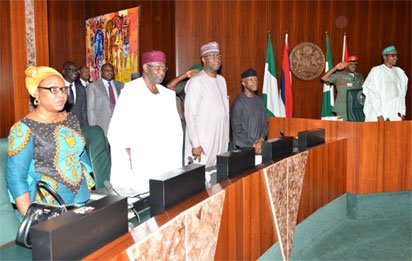 See What Happened In The Osinbajo-Presided FEC On Thursday
The Federal Executive Council on Thursday approved another N1.8bn for the reconstruction and rehabilitation of buildings at the Agbo Railway Village in Delta State.
The meeting which will be the second time in the week was presided over by Vice-President Yemi Osinbajo at the Presidential Villa, Abuja, Punch reports.
Recall that President Muhammadu Buhari had on Wednesday presided over the first FEC meeting for the week.
Another approval made by FEC was the sum of N743m for the procurement of security and safety equipment for the Nigeria Civil Aviation Authority.
Speaking with State House Correspondents on Thursday night, the Minister of State for Aviation, Mr. Hadi Sirika, explained that the procurement would commence and be completed within 12 months.
He also said another N391.8m was approved for the procurement of pavement marking machines.
Sirika spoke more on the safety equipment, "This is a visual aid for pilots for safe operations around our airports."
He added that €1.1m was approved for the purchase of a total radar coverage track-on system reconditioning.
The minister explained, "This contract went to the manufacturer of the equipment for 1, 187, 960, 000 Euros, equivalent to N414, 543, 760.23, excluding taxes and it is for seven months' completion."
The Federal Capital Territory also benefited from the FEC approvals as it got N2.6bn for various contracts in the FCT, including the "provision of an access road to link very key anterior roads in the Central Business District, that is Ahmadu Bello Way and Sani Abacha Way, all in the FCT, in the sum of N670, 347, 909 with a completion period of six months."
Meanwhile,  Naija News understands that the Minister of the FCT, Mr. Mohammed Bello, defended the demolition of a night club, Caramelo Lounge, by the FCDA's Department of Development Control, noting that the building breached the original contract of a Clinic
The building was pulled down on Monday on the grounds of operating as a night club in a residential area.