Atiku Vs Buhari: Facebook Shuts Down Accounts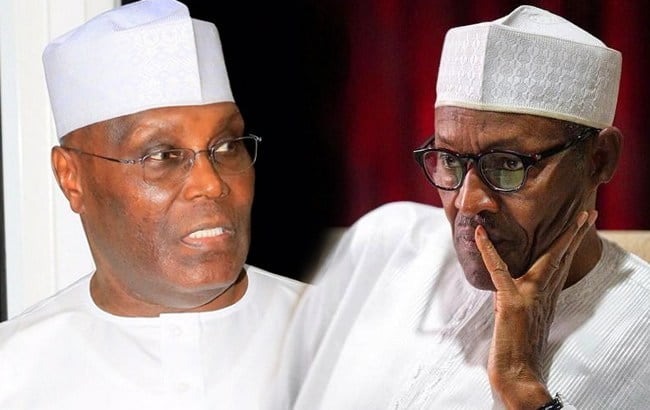 Facebook has closed some accounts allegedly owned by an Israeli firm named Archimedes, which were used to tarnish the image of Presidential candidate of the Peoples Democratic Party (PDP), Atiku Abubakar, and boosting that of President Muhammadu Buhari.
According to the Associated Press, the United States think tank, Atlantic Council's Digital Forensic Research Lab, disclosed that some sample posts removed from Facebook appeared to praise President Buhari of the All Progressives Congress (APC) and smear his leading opponent, Atiku.
After investigations, many of the pages and accounts were linked to a lobbying firm named Archimedes.
On its website, Archimedes advertises its deliberate efforts to conduct disinformation campaigns, boasting that it takes "every advantage available in order to change reality according to our client's wishes" through "unlimited online accounts operation."
Facebook banned Archimedes from its platform on Thursday for its "coordinated and deceptive behaviour" and conducted a complete takedown of accounts and pages aimed at disrupting elections in Africa, with some scattered activity in South-East Asia and Latin America.
Overall, the misleading accounts had reached some 2.8 million users, and the pages had engaged over 5,000 followers, according to Facebook's estimates.
One of the pages that Facebook cancelled appeared filled with viral misinformation attacking Atiku, a former Vice-President.
The report further read, "The page's banner image showed Abubakar as Darth Vader, the Star Wars villain, holding up a sign reading, 'Make Nigeria Worse Again'.
"Another page with almost identical visuals, although significantly excluding the Darth Vader mask, purported to support Atiku, with the slogan 'Team Atiku for President'.
"The report identified the page as a covert attempt to infiltrate Atiku's audience of potential voters and manipulate their views, gradually spamming them with antithetical content and diverting them to the 'Make Nigeria Worse' page."
The report also featured a page that explicitly boosted Buhari, with amateur videos eulogising the accomplishments of his Presidency as though he were not locked in a tight battle for re-election.
According to the report, several of the removed pages attempted to defame candidates of the Peoples Democratic Party (PDP).
It said one page with artificially amplified audience engagement, called "Rivers Violence Watch," pumped out political propaganda while posing as a neutral monitor of election violence, using the page description to mask its efforts.
Most of the pages claimed to be run by local Nigerian users, but in fact, were managed from Israel.
The accounts were also found to have been used in spreading rumours and promoting violence in an election which revealed Nigeria's fault lines along ethnic and religious divides.
Facebook has in the last year closed down over one billion accounts used in spreading fake news.