Emir Sanusi: Time To Go By Comfort Obi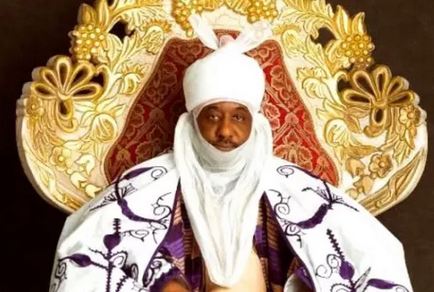 Being not from the Northern part of Nigeria, I don't know what the law says on the abdication of Emirs. Can an Emir, on his own abdicate? I know they can be deposed, and forced into exile. A couple of them had suered that fate. The most prominent: Sultan Ibrahim Dasuki, father of the detained former National Security Adviser, Sambo Dasuki.  He was deposed during the regime of late Head of State, General Sani Abacha, and sent to Kaduna on exile. He died in there.
Ironically, the grandfather of the current Emir of Kano, Alhaji Muhammadu Sanusi II, also suered the same fate. Some months ago, on a trip to Wudil, Kano, a police officer, who is a Kano state indigene, pointed out, to me, the small house where he was banished to. Would that be why Emir Sanusi II desperately wanted to become the Emir of Kano? Was it to repair the image of his lineage? Perhaps. But if he does not watch it, the same fate may befall him.
Everything points to the fact that Sanusi II may go the way of his grandfather. He may be deposed. Given the supersonic speed with which the governor of Kano state, Abdullahi  Ganduje, is going about it, it may not belong. If that happens, he would live miserably in exile, until he answers Allah's call.
I don't know how he will cope in exile with his lovely wives if that happens. And that is why I am, here, wondering if it is okay for him to abdicate the office. If so, I strongly encourage him to do so and follow it up with a bolt out of Kano and Nigeria. He shouldn't wait to be humiliated out of office and banished from his beloved Kano.
The plan to humiliate him began in 2017. Accused of all kinds of alleged misconduct,
including misappropriation of the Emirate funds, and daring to send his daughter to
represent him at a function in Abuja, Governor Ganduje had asked the Kano state Anti Corruption Agency to investigate Sanusi. It caused quite a stir. And took the intervention of a number of prominent Nigerians to save him from that embarrassment.
Peace finally reigned. But, it was an uncomfortable one. "Patch, patch" work. The gloves began to be gradually o in the months leading to the governorship election. The story out there was that a number of prominent Kano indigenes, including the Emir, had gotten tired of Ganduje.
They said he had become an embarrassment to the state. Their disdain of him peaked during the scandalous video where the governor was caught, clearly, allegedly, stung hundreds of thousands of US Dollars, bribe money, given to him by contractors, into his pocket. It went viral.
And was a national shame. Unfortunately, the case seems dead and buried. The day the Journalist who made the video public was invited by the Kano State House of Assembly to testify, with evidence, Ganduje's government engineered a protest against the Journalist's appearance.
Primary school children who should be in school came out to protest in support of an
alleged bribe taker. When Ganduje was invited by the House to testify, he ignored it.
Instead, he took refuge in the court, which inexplicably stopped him from appearing. Like every responsible Kano indigene, Emir Sanusi was, allegedly, embarrassed by the Ganduje bribery scandal.
And, so, may not have wanted him, like most others, to win, especially, after the Governor has derisively been nicknamed "Gandollar." But he won, in a most controversial manner. And, even though the case is at the Election Tribunal, Ganduje couldn't wait to take his pound of flesh. Last Wednesday, he pulled off the gloves and bared his fingers.
It started with an obviously pre-arranged petition led before the Kano House of Assembly, KAHA, by Ibrahim Salisu Chambers. The petitioner had demanded the upgrading of some Traditional Rulers from District Heads, to the status of First Class Emirs. Four additional First Class Emirates – Karaye, Bichi, Rano and Gaya – he demanded, should be created. It was given an obscene attention.
It was read on Monday. And, in a speed that would make Usain Bolt green with envy,
approved, and its bill passed within 24 hours. In passing the bill, the KAHA split the
ancient Kano Emirate into ve. Meaning that Sanusi II would no longer be the sole Emir. In splitting the 44 Area Councils, Sanusi was left with only 10.
For a moment, many decent people had hoped that Ganduje would make a pretence of refusing to sign the bill into law. That may be, he wanted to shake Sanusi a little. Not true. For, again, in a speed that would leave Usain Bolt, this time, confused, and sent into a deep slumber, Gandollar, ah, sorry, Ganduje, signed it within 24 hours. Sure, he made a flowery speech on the need to get tradition to the grassroots and all that,  everybody saw through the charade. It was a combination of politics and vengeance and power. He only wanted to show Emir Sanusi that, "power pass power."
So, with a stroke of the pen, Ganduje and an indolent KAHA destroyed an ancient kingdom and an over a century old traditional institution. But, here is the implication.
Sanusi has been dealt with. His powers have been reduced, whittled down. He is no longer among the first three Emirs in the North. He will now preside over a mushroom Emirate. But who loses? My answer: Kano.
It is like biting one's nose to spite one's face. In his bid to humiliate Sanusi, Ganduje has stripped Kano of its pride of place. Urbane, cosmopolitan, brilliant, Sanusi's face was good for Kano. He brought credibility and international attention to the state. One cannot say those about the governor whose alleged Dollar bribe scandal-stained him and all he stands for.
It is baffling that of all the problems Kano state is battling with – Almajiri, poor
educational and health systems, lack of clean drinking water, insecurity, etc – Ganduje and the KAHA will be thinking of how to deal with Sanusi, and destroy Kano's proud ancient tradition.
Ganduje and KAHA members patted one another on the back Just for a pot of porridge.
From when he was the Central Bank Governor, Sanusi let it be known that his greatest need in the world was to be the Emir of Kano. I used to wonder about it. Age was on his side, and he has such a broad view of world politics and economy.
Honest, I thought that Emirship was beneath him. But, he was desperate for it and got it in a controversial manner. Obviously, I am ignorant. Being the Emir of Kano seems such a big deal. But he combined his desire with politics and became a political Emir.
So, now, does he have regrets? He may not admit it but, I bet. His ambition couldn't have been to be the Emir of ten Council Areas only. What crime did he commit to deserve this humiliation? One day, the full story will be told. But for now, not a few people are laughing, and saying: "Serves him right. It is the law of Karma"
Why?
They say the politics that gave him the Emirship humiliated him. One Bolanle Cole, Esq, in a tweet mocked Sanusi thus: "Emir of Kano was the main instrument used by the APC to oust GEJ in 2015 with the fallacy of missing 20 Billion Dollars. But today, he has lost 34 Local Governments under his territory."
Now, losing the territory may be mild. A deposition, a banishment and a possible trial for alleged misappropriation of the Emirate's funds will be worse
Who will save Sanusi? Will President Muhammadu Buhari intervene? The Kano State Anti Corruption Agency seems serious in its investigation of Sanusi.
Proof: it has immediately invited a Sanusi ex -Alhaji Isa Sanusi Bayero, a former Secretary of the Emirate Council. Isa is Emir Sanusi's uncle. He booted Isa out of office, on allegations of leaking financial information on the Emirate.
Will this be payback time? The world is funny.
Obi is the Editor-in-Chief/CEO of The Source (Magazine), thesourceng.com.
Email: [email protected], [email protected]
Culled from: The Source Meridian
The opinions expressed in this article are solely those of the author and not of Naija News.